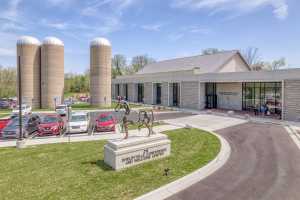 We are excited to share the new website for the Shelbyville Conference Center, Shelbyville Trolley, and Stargazer Plaza, where you can find photos, RFP forms, and extensive FAQs.
Learn more

Surrounded by nature, coupled with small-town charm, the Shelbyville Conference & Welcome Center is ready to host your next meeting, training or event. Managed by ShelbyKY Tourism, the center's location (219 7th St.) is central to not only Shelbyville's historic downtown and scenic parks system, but it is also less than an hour from the state's largest cities – Louisville and Lexington.
Including state-of-the-art capabilities for hosting in-person and hybrid events, the Conference & Welcome Center offers more than 16,000 s.f. of space spread over one floor.
Type of Venue: Conference and Events
Capacity: up to 400 Banquet | 600 Theatre
With three historic silos as visual centerpieces, the creation of Shelbyville Conference and Welcome Center is a partnership of the City of Shelbyville, Ohio Valley Educational Cooperative, and ShelbyKY Tourism.
German American Bank, Republic Bank & Trust, and Stock Yards Bank & Trust are the named sponsors of the center's three meeting rooms.