Shelbyville, KY (December 3, 2022) — Works from two local artists are on display at the Shelbyville Conference Center, and various forms of media are included, including ceramics and metalwork.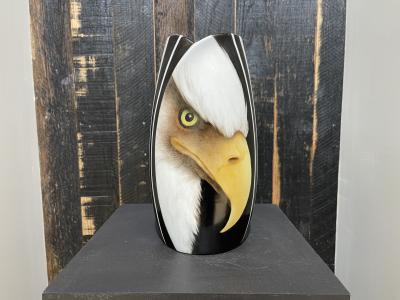 Donna Owen, a porcelain artist from Simpsonville, Kentucky, has three pieces on display at the Shelbyville Conference Center, including a Bald Eagle vase and two floral vases. Donna is an active member of the Shelby Regional Arts Council and is currently the Gallery Director for Dogwood Art Gallery in Shelbyville. She has been a porcelain artist for over 35 years and has served as state president and school chairman in Ohio and Kentucky. Donna has additional art pieces on display at Dogwood Art Gallery in The Shoppes at Blue Gables at 800 Main Street, Unit 14 in Shelbyville, Kentucky.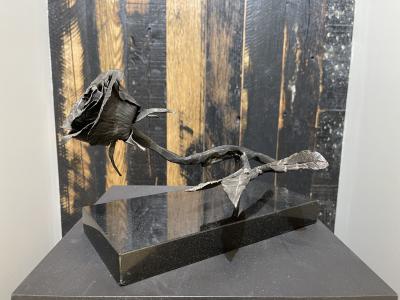 Charlie Wallace's forged rose art is displayed at the Shelbyville Conference Center. Charlie has been a long-time member of the Shelby Regional Arts Council. He began his artistic journey while serving in the United States Navy, starting with acrylic painting, and shortly after that, he began focusing on 35-mm photography. Charlie, who has an extensive collection of underwater photography, specializes in landscapes and environmental portrait photography and has been featured in local and regional galleries. He is also interested in forging and has studied with Craig Kaviar and uses a coal-fired forge in his studio near Simpsonville. Concept Designs LLC was incorporated in 2008 and concentrates on creative and efficient designs using a mix of mediums, including watercolor, photography, and forged metal.
"The Shelbyville Conference Center is deeply rooted in its community, which is why we believe it is essential to feature local artists wherever we can," said Janette Marson, ShelbyKY Tourism President & CEO. "There is a large and diverse group of artists in Shelby County, and Donna and Charlie join local photographer Cheryl Van Stockum and metal artists Jenny K. Hager and d. lance vickery of Havic Studios, whose works are also on display at the Conference Center." 
About the Shelbyville Conference Center — The Shelbyville Conference Center is the premier event and meeting venue in Shelby County, Kentucky. Versatility, beauty, and modern amenities provide a welcoming and accommodating venue for your wedding, party, reunion, or group meeting. Flexible floor plans and state-of-the-art technology allow for all groups of any size to gather and celebrate together. Managed by ShelbyKY Tourism, the center's location in downtown Shelbyville is less than an hour away from Kentucky's two largest cities, Louisville and Lexington.
###