Shelbyville, Ky. (June 6, 2023) — ShelbyKY Tourism, the destination marketing organization for Shelbyville, Simpsonville, and Shelby County, Kentucky, received grant funding from the Kentucky Department of Tourism to bolster its advertising efforts and support the development of new tourism programs. The grants, which came in three separate tranches, are for tourism promotion; conference, convention, and sports development; and a special multi-county collaborative project. The funds were awarded by the Kentucky Department of Tourism after the Kentucky General Assembly approved allocating $75 million of the state's American Rescue Plan Act (ARPA) funds for tourism.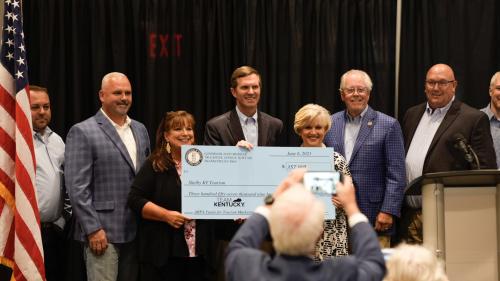 The DMO has placed advertisements in several national publications using the grant funds, including USA Today, Convention South, The Local Palate, and Group Tour Magazine. In addition, ShelbyKY Tourism is working to redesign its website and ran streaming and TV ads in the Chicago market, resulting in more than 1,000,000 impressions. Already, ShelbyKY Tourism has seen an increase in website traffic, requests for visitor guides, and overnight stays. In 2023 alone, the DMO has distributed 18,000 visitor guides to interested travelers and seen several consecutive months of its highest website traffic and social media engagement ever.
In total, the tourism office received $846,947 in grant funds: $146,947 in the first tranche for general tourism marketing, $200,000 in the second tranche for convention and conference development, and $500,000 in a third tranche for multi-jurisdictional projects. The ARPA funds are required by state law to be spent on destination marketing and convention development and must be fully expended by December 2024.
"These funds are transformational for ShelbyKY Tourism and have allowed us to advertise ShelbyKY as a premier bourbon destination in markets we previously weren't able to reach," said Janette Marson, the organization's president and chief executive officer, who continued: "Everyone across the tourism industry is grateful for the leadership of Governor Andy Beshear, Senator Damon Thayer, and all legislators who helped get this funding across the finish line."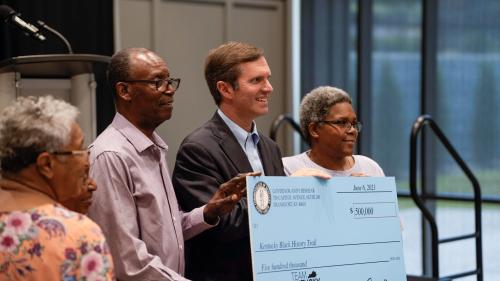 The multi-county project is a collaboration between the tourism offices of Shelby County, Louisville, Bardstown, Elizabethtown, Bullitt County, and Oldham County. While an official branding process is underway, the project, still in its development phase, will allow participants to scan a QR code and be greeted by a three-dimensional representation of a historic figure who will recount a significant moment in Kentucky's Black history. Figures include civil rights leader Whitney M. Young, Jr., who was born and raised in Shelby County, and the Harlem Hellfighters, the trailblazing World War One infantry, five of whom are buried in the Calvary Cemetery in Shelbyville.
# # #
About ShelbyKY — ShelbyKY (Shelbyville, Simpsonville and Shelby County) is Your Bourbon Destination. Home to two distilleries — Bulleit Distillery and Jeptha Creed Distillery — and located on the Kentucky Bourbon Trail®, ShelbyKY offers an array of bourbon-centric lodging, shopping and dining. ShelbyKY is perfectly positioned for ease of access to Louisville, Lexington, and Northern Kentucky. Pair dining at classic favorites like Claudia Sanders Restaurant and local staple Bell House Restaurant, with Kentucky's only designer outlet mall, and there's much to see, do and taste in ShelbyKY. Home to 90-plus Saddlebred horse farms, ShelbyKY offers a rare peek into the world of the Saddlebred show horse and is known as the Saddlebred Horse Capital of the World. Outdoor adventures await those who enjoy fishing, canoeing, horseback riding and golf. We invite you to follow @visit_shelbyky on Instagram, @visitshelbyky on Facebook, and learn more about ShelbyKY at www.visitshelbyky.com. 
Media contact: Debra Locker — debra@lockerpr.com | (859) 536-0282