The holidays are right around the corner and stores are officially preparing for all the holiday shoppers. Below are 10 thoughtful and unique gifts with a bit of local flair that will make your loved ones smile from ear to ear.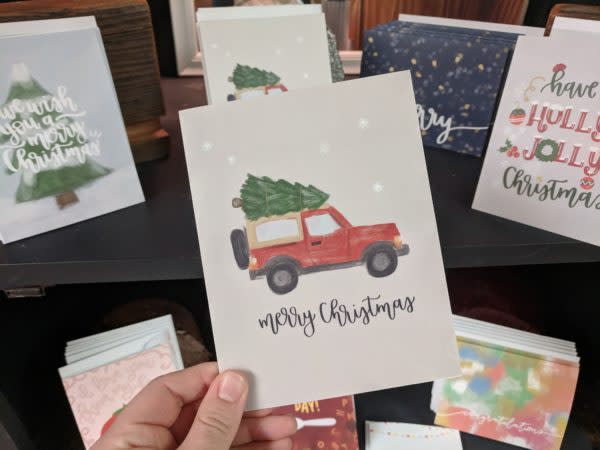 Shelby Horse Supply The finest in-hand crafted equine leather goods are perfect to add a touch of ShelbyKY into your holidays. Purchase a set of matching key chains for your closest friends or even surprise the dog lover in your life with an engraved leather collar for those fur babies.
Serendipity Have someone in the office with a sweet tooth? Spoil your coworkers by picking up an order of their favorite chocolate creations! Not too sure what they'll enjoy? Serendipity has a variety of desserts for you to bundle from hand dipped chocolates and ice cream to cakes and cookies.  During the holidays, we get so busy knocking everything off our to-do lists that we at times forget to treat ourselves, so be sure to grab one to take home.
Bulleit No other gift screams local like a good personalized bourbon. Bulleit Distillery allows you to customize their infamous orange labels and easily wrap it around a bottle, making it look just like an original! The gift possibilities are endless.
Eight Twenty 8 Boutique This boutique offers fresh, fun styles in fashions that are one of a kind. Grab your loved one a KY sweatshirt for all the Kentuckian vibes! With their in-trend styles, your selection will undoubtedly please the fashionista in your life.
Lettleiki Icelandics If you are looking to skip on materialistic gifts this year, this one will be perfect. Lettleiki Icelandics is an internationally recognized center for the Icelandic Horse and provides lessons for adults and children. You can gift just a single private lesson for a one-time experience or go ahead and bundle on the 5-lesson package. This gift will surely leave your loved one with unforgettable memories.
Equestrian's touch Already a horse a lover? Then you will definitely find the right gift here. This shop specializes in the equestrian embroidery designs-particularly Saddlebred horses. They are a proud supplier of authentic WCHS embroidered items. Consignments also includes custom riding apparel for horse enthusiasts.
Le Creuset Holiday traditions and festive meals are upon us, and Le Creuset sets the stage for meaningful moments. Le Creuset has diverse utensils across a range of colors and materials, for chefs and bakers to whip up their favorite meals in style.
Jeptha Creed Surprise your craft spirts lover with a good 'ol bourbon holiday. Jeptha Creed's e-commerce store provides a wide variety of gift ideas from the bourbon connoisseur to the chef and even the coffee lover. For a first-hand experience, add their unique barrel tasting into the holidays for a personalized tasting straight from the barrel.
Brick+Mortar Boutique and Coffeehouse Those who want to gift a touch of ShelbyKY into their homes must stop at this boutique. Brick + Mortar carry certified ShelbyKY home décor, mugs, and even bandanas! While you're shopping, be sure to grab a fresh coffee to sip on as you head to your next spot.
Talon Winery While ShelbyKY is predominately known for the bourbon, we also have other alternatives for those with different taste buds. Gift your loved one a bottle of their favorite wine, or one they have had on their bucket list, and pair it with Talon's Vintage stainless-steel cups as souvenir for when the bottle's all gone! Not too familiar with wine? Sign up your wine enthusiast to Talon's Wine Club! Club members receive discounts on their choice of wine and perks such as free tastings for two.