The summer season is here, and it's time to explore the great outdoors. If you're looking for weekend adventures and exciting experiences, there's no better place than ShelbyKY — Shelbyville, Simpsonville, and Shelby County, Kentucky! Located just east of Louisville, this community of small towns is chock-full of fun family activities and even offers two distilleries, both part of the Kentucky Bourbon Trail and the Kentucky Bourbon Trail Craft Tour, for the adults to enjoy. Whether you're visiting from out of town, are a Kentucky native, or just passing through and looking for some fun, ShelbyKY has plenty for you to do. To kick off the summertime, here are the top things you can't miss when you come to visit.
Outdoor Adventure
ShelbyKY offers many wonderful outdoor opportunities between its many parks and trails. For those looking to spend a day or an afternoon hiking, there are trails of every length to keep you occupied. For a shorter hike, check out the Red Orchard Trail and the Shelby Lake Loop. Both trails are easy loops ranging from 0.9 miles to 1.6 miles. For those looking for a longer hike, the Shelby Greenway Trail offers a scenic 6-mile paved trail that winds its way through Shelbyville's parks. The Greenway Trail is ideal for walking, running, cycling, and rollerblading at your desired pace. For water and sports lovers, Clear Creek Park offers access to Lake Shelby, the Clear Creek Golf Course, and plenty of outdoor sports pavilions for basketball, pickleball, tennis, and more. To make a weekend out of the outdoors, spend a few days camping at Lake Shelby Park and Campground or Guist Creek Marina & Campground.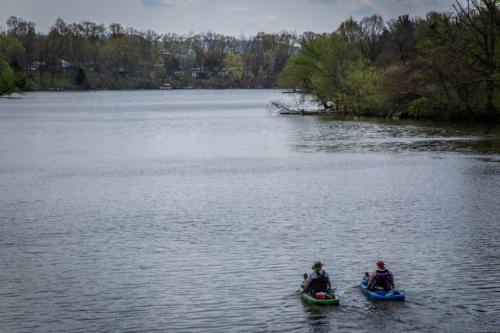 Guist Creek Lake
Hiking trails aren't the only trails around Shelbyville. Horseback riding is a staple of Kentucky culture, and you haven't experienced Kentucky until you've gone riding! With over 90 farms and breeding and training facilities, Shelby County is known as the American Saddlebred Capital of the World. Those with their own horses can bring them to Shelby Trails Park to explore miles of trails and experience the wildlife. Stables and farms like Kismet Farm and Walnut Way Farm offer riding lessons and camps over the summer. Gaining equestrian skills has never been easier! After you've spent your own time on horseback, come back and check out the Shelbyville Horse Show in nearby Louisville at the end of the summer.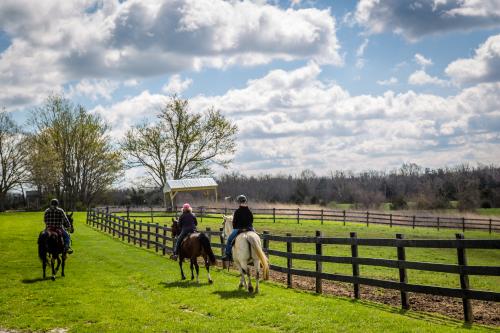 Shelby Trails Park
Experience farm life
The farms in the area are full of activities beyond riding. On top of horseback riding lessons for all ages, Kismet Farms and West Meadow Farm both offer farm tours to connect people to animals and nature and give visitors a window into the typical farm lifestyle. Gallrein Farms provides a wide variety of experiences to educate and encourage a love of agriculture and is a great place to spend the day. Tour the tropical plants in the greenhouses, pick your own strawberries, visit the petting zoo, and take part in the farm's seasonal activities. If you're interested in more pick-your-own opportunities, apples and peaches are available throughout the summer at Mulberry Orchard with a variety of both vegetables and berries available throughout the season as well. Grab a light lunch at the farm from 11am to 2pm every Wednesday through Saturday.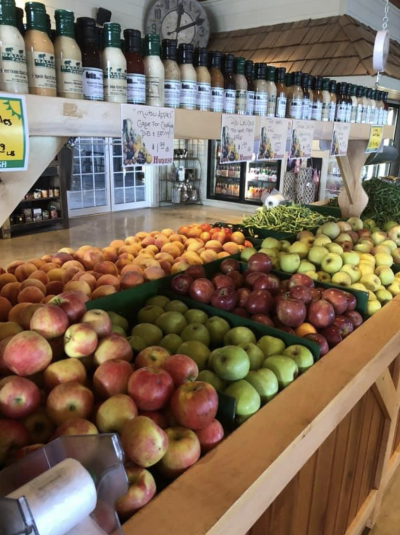 Gallrein Farms Market
Bourbon, wine, and beer
The one experience you absolutely cannot miss in Shelbyville this summer is a grain-to-glass bourbon experience. Jeptha Creed Distillery and Bulleit Distilling Company offer interactive tasting experiences. Visitors take a firsthand look at what goes into making some of America's favorite bourbons and even get to sample some! Shelbyville is located in the middle of the Kentucky Bourbon Trail®, so more than half the distilleries on the trail – including Woodford Reserve, Four Roses, Jim Beam, and Wild Turkey – are less than an hour's drive from the city. This makes creating a weekend plan easy — use ShelbyKY as your home base and tour the state's distilleries, starting with ShelbyKY's Jeptha Creed and Bulleit Distilleries. You also can't miss the craft beer and wine scene in Shelbyville. For a wide selection of craft beers, check out The Barrel Room, an extension of The Old Louisville Brewery. It offers more than 20 local and Kentucky craft beers along with whiskey and wine. Smith Berry Winery and Talon Winery each host tours and tastings every day of the week. Try over twenty different kinds of wine and get a taste of featured local musicians at the same time.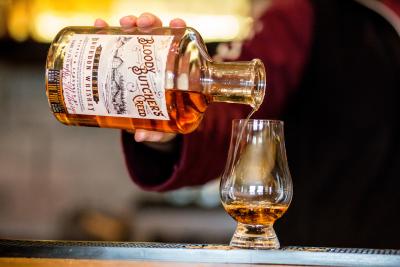 Jeptha Creed Distillery, part of the Kentucky Bourbon Trail Craft Tour
Where to eat
You can't experience all Shelbyville has to offer without trying the local restaurants. Order some good old-fashioned Kentucky fried chicken and southern sides at Claudia Sanders Dinner House for the quintessential Kentucky experience. For the famous Louisville hot brown, visit Bell House Restaurant to try their take on the classic sandwich. La Cocina de Mama is a family-owned Mexican restaurant that boasts fresh ingredients and homemade chips and salsa that are ready and waiting for you to snack on. If you're on the go and need a sweet snack, grab a pastry and a cup of coffee at Sixth & Main Coffee House or The Paddock Coffee + Eats + Gatherings, or head to Serendipity Kandy Kitchen for specialty desserts, chocolates, and ice cream.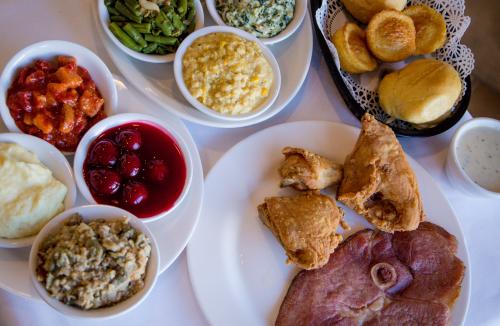 Claudia Sanders Dinner House
Where to stay
There are plenty of places to rest your head in ShelbyKY, from familiar brand-name hotels like the Hampton Inn in Simpsonville to boutique lodging options like Saddlebred Suites or fabulous bed and breakfasts like the Yellow Carriage House. Head to our Where to Stay page for more details about the many lodging options available for the entire family in ShelbyKY.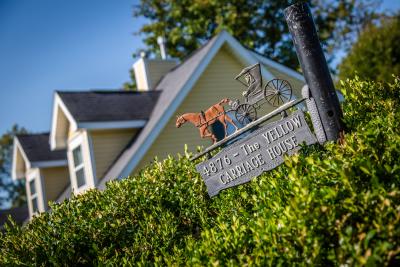 With so much to see, eat, and do, ShelbyKY has no end to outdoor adventures, restaurants, and your favorite bourbon. Summer getaways have never been easier than spending a few days in all ShelbyKY has to offer. We're sure you'll have a fantastic time, and we can't wait to welcome you!