If you love Bourbon as much as we do, then you know that September is a month-long celebration of America's native spirit! Whether you are a Bourbon enthusiast or a social bourbon drinker, National Bourbon Heritage Month can be enjoyed however you please. Here are a few ideas to get you started.  
Apple Pie Old Fashioned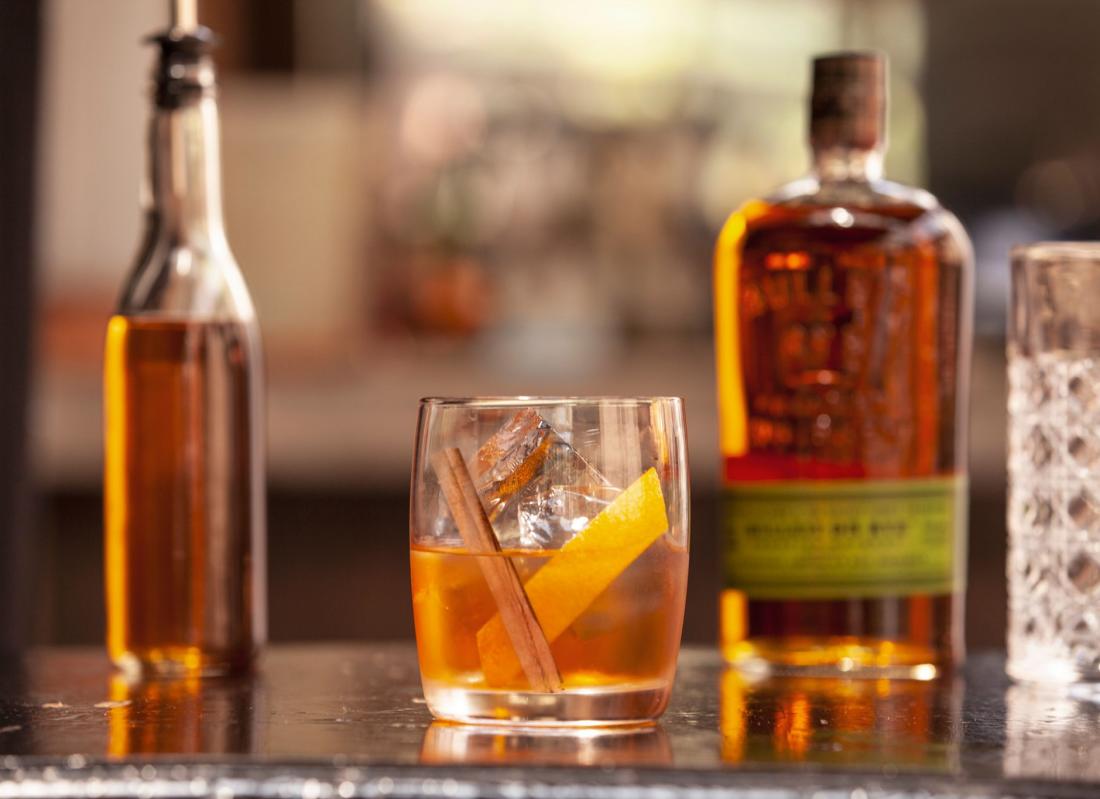 Savor a classic libation with a seasonal twist.
Ingredients:
            1.5 oz Bulleit Rye
            0.25 o Cinnamon Syrup
            2 Dashes Aromatic Bitters
            2 Dashed Hella Apple Blossom Bitters 
Directions:
            Stir all ingredients with ice and strain over fresh ice
            Garnish with Orange Swath and Cinnamon Stick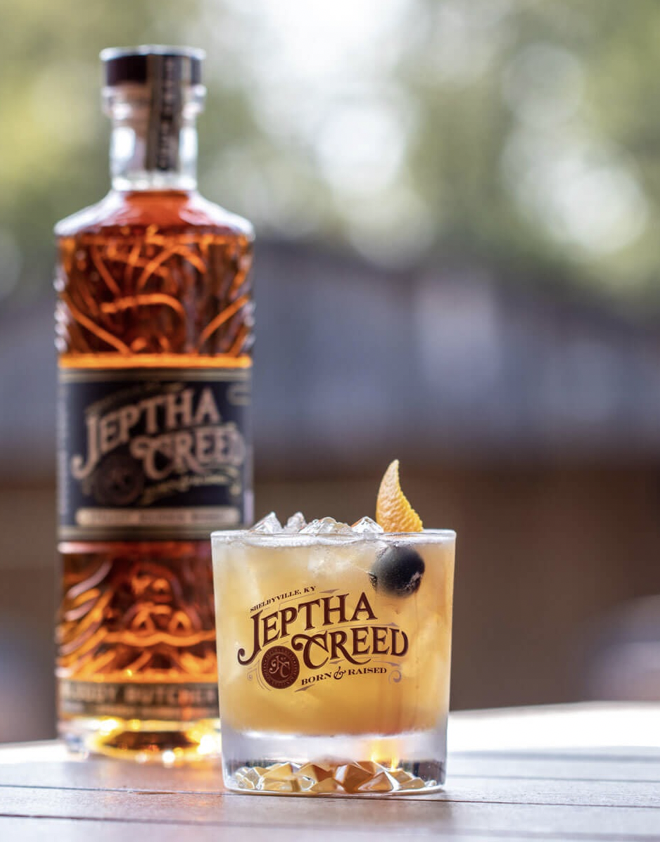 Cheers to the old school cocktail that started it all.
Ingredients:
            .5 oz Jeptha Creed 4-Grain Straight Bourbon
            1 oz Lemon Juice
            2 Dash Bitters
            .75 oz Simple Syrup
            Orange & Cherry
Directions:
            Add ingredients and ice to shaker
            Shake and strain over ice
            Garnish with Orange peel and Cherry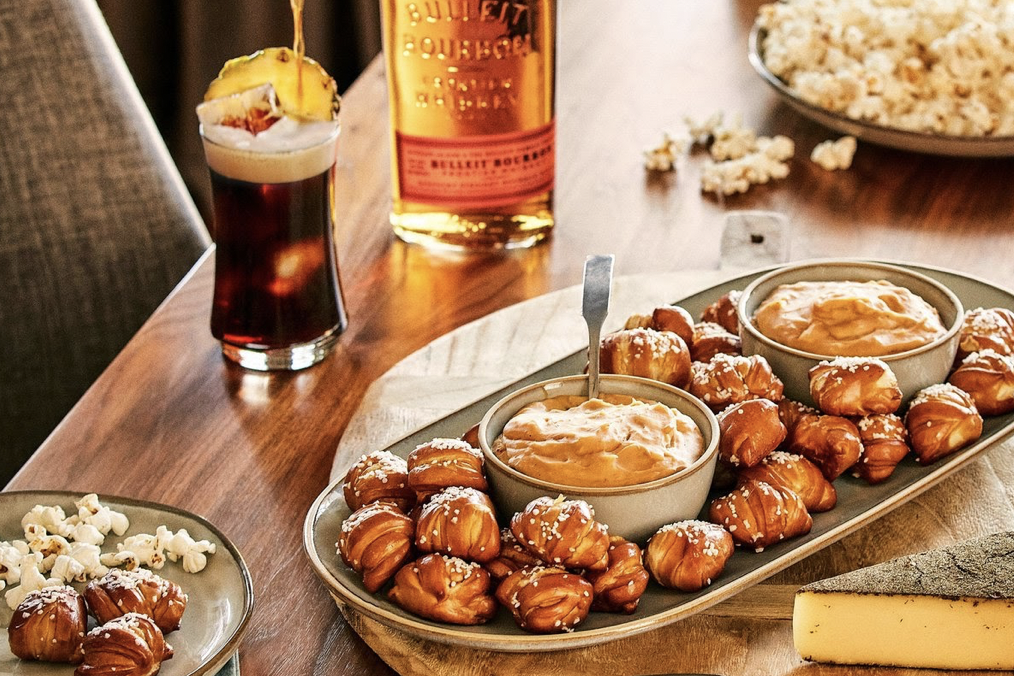 Creamy with a hint of bourbon, this beer cheese recipe is a go-to for all gatherings. 
Ingredients:
            3 cups cheese sauce (recipe below)
            4 oz of preferred stout beer, avoid overly flavored or chocolate stouts
            1.5 oz Bulleit Bourbon
            Pretzel bread for dipping
            Let cheese sauce come to room temperature
Directions:
            Quickly whisk in beer and bourbon, making sure they are fully incorporated
            Slice pretzel bread to manageable pieces, leaving bread attached at the bottom
            Spray with pan spray, sprinkle with coarse salt, and bake on 400 for 3 minutes
Cheese Sauce Ingredients:
            1 Spanish onion, julienned
            10 cloves garlic, smashed
            ½ lb of butter
            ½ lb All Purpose Flour
            Juice and zest of 1 lemon
            ½ lb American cheese
            1 lb sharp cheddar cheese
            ½ lb smoked gouda
            ½ lb goat cheese
            1 gallon of milk
            Kosher salt and black pepper
Cheese Sauce Directions:
            In a heavy-bottomed saucepot on medium-high heat, melt butter, then sweet onion and garlic until translucent, being careful not to burn the garlic. Add flour and stir, being sure flour and butter are fully incorporated.
            Increase heat to high and add 1 quart of milk. Do not walk away from the pot. Stir until you are at a boil. You will notice your mixture coming together and getting very thick.
            Transfer mixture to a blender, and make sure it is thoroughly blended. If you have to add more milk to keep it moving and blending, it is okay to do so at this time.
            Place back in the saucepot, on medium heat, add another quart of milk. Bring contents to a boil, then cut heat to medium-low, and add, in order: American cheese, cheddar, goat cheese, and gouda, allowing each cheese to melt and incorporate before adding the next cheese entirely.
            Add more milk, ensuring your cheese sauce is brought back to a boil until you achieve your desired cheese sauce consistency. Add kosher salt and black pepper to taste.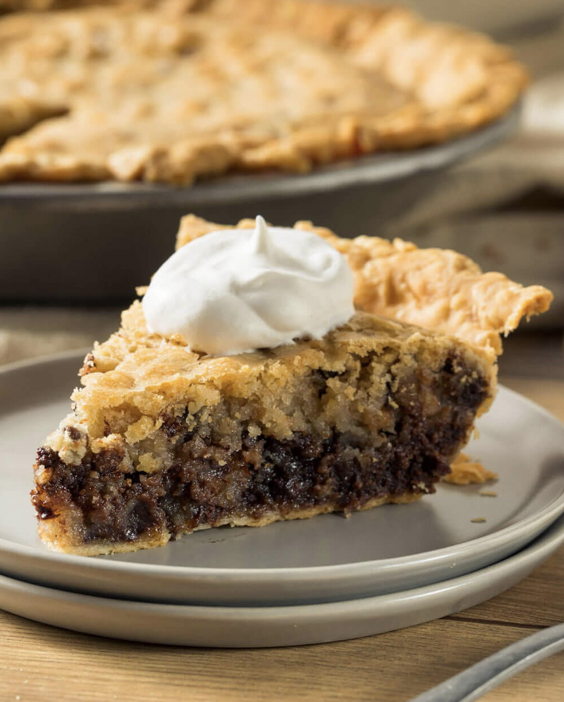 Bourbon adds fantastic smokiness to this excellent chocolate dessert.
Ingredients:
            1/2 cup All-Purpose Flour (or 1/2 cup All-Purpose Gluten Free Flour & 1/8 teaspoon Xantham Gum)
            1 cup Sugar
            1/4 teaspoon Salt
            2 Eggs (lightly beaten)
            1/2 cup Unsalted Butter
            3 tablespoons Jeptha Creed Straight 4-Grain Bourbon Whiskey
            1 1/2 teaspoon Vanilla Extract
            1 cup Pecans (chopped)
            3/4 cup Semi-sweet Chocolate Chips
            1 9-inch Pie Crust (thawed)
Directions:
            Preheat the oven to 350 degrees F
            In a mixing bowl, combine the flour, sugar, and salt
            Whisk to breakup big clumps
            Add the liquid ingredients, pecans, and chocolate
            Mix until well combined and the pecans and chocolate are evenly distributed
            Pour the filling into a 9 inch pie crust
            Leave some room for the filling to expand in the oven
            Bake for 50 minutes or until the topping is golden brown and the center is slightly jiggly
            Place the pie on a wire rack to cool
            The pie will continue to bake as it cools
            Cool completely before serving
            Serve with whipped cream or alone
Whether you celebrate Bourbon Heritage Month in town or in the comfort of your own home, the trick to a perfect cocktail starts with a great local bourbon. From cocktails to bourbon beer cheese, these are just a few tasty bourbon recipes to make in honor of National Bourbon Heritage Month.