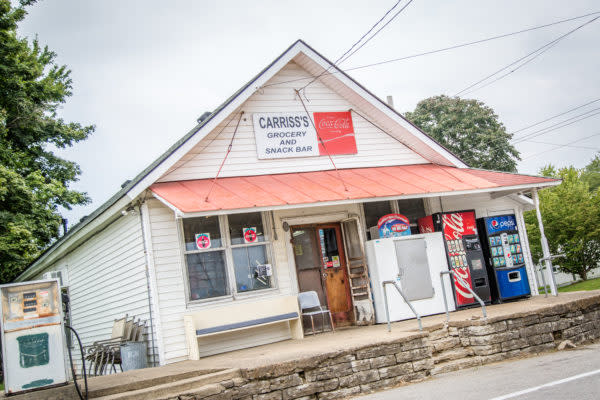 Savor the Story:
Budgets may tighten down this time of year, but that doesn't mean your appetite should have to sacrifice. Here are four great restaurants across Shelby County, Kentucky that offering cheap eats, filled with flavor. Let these meals offer you a peek into what you can expect for lunch or dinner at some of the yummiest spots ShelbyKY has to offer.
Carriss's Grocery
For 41 years, Carriss's Grocery has been serving up the best and likely cheapest cheeseburger and fries you can find in miles for $4.98. Many locals may remember Bessie Mae Carriss who originally started up the store, while she isn't cooking anymore, she has a daily presence greeting and helping customers. Her daughter Vivian Lisby has taken over the kitchen and cooks up the perfect offering of southern dishes you'd expect at a country store. Other options available include; fish, BLT, pork tenderloin, rib eye, chicken tenders, and a daily plate lunch which includes a meat, two veggies, and bread. Your sweet tooth will be happy to hear there are desserts made daily.
Located in Southville, this grocery offers many items you may need to pick up as you pass through. You know this is a place to eat when locals will drive from miles to pop in for breakfast and lunch and enjoy the southern hospitality.
Carriss's Grocery: open Monday through Saturday, 6:30 am until 5:00 pm.
Gallrein Farms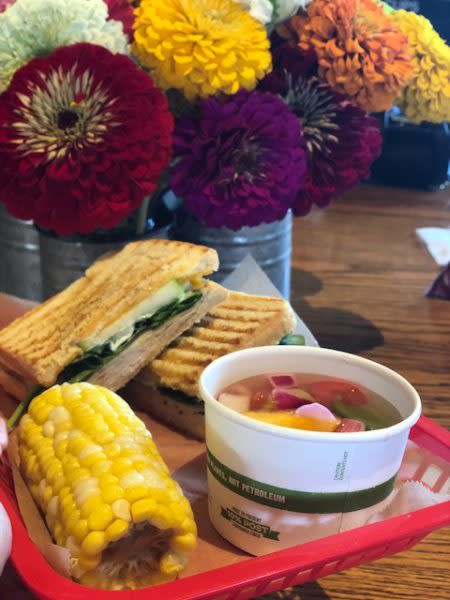 Gallrein Bakery and Café offers some of the freshest lunch options around. Their most popular dish is the Gallrein Baja – a warm panini filled with turkey, pepper jack cheese, avocado, tomato, fresh spinach, cucumber, homemade chipotle mayo on focaccia bread. The sandwich, side, and drink combo is $8.99. Sandwiches are available on gluten-free bread, as a lettuce wrap, or served as a salad. You'll also want to make sure to nab some homemade fudge, donuts, cookies, or candies from the Bakery.
Developed with the mission to inspire, educate, and encourage all things agriculture, Gallreins Farm is a great place to bring your family to visit the petting zoo or u-pick strawberries, and in the fall, they offer u-pick pumpkins, hayrides, and a variety of family activities.
While you are there, make sure you head over to the market area and pick up fresh produce and local food products like honey and jellies. If you are there long enough you may see a farmer bring in some produce just freshly picked from the farm. Yes, it's that fresh!
Gallrein Farms: open April 1 through October 31, and café hours are Monday-Saturday 11 am to 2 pm.
Ken-Tex BBQ
Celebrating 32 years in business, this Shelbyville staple has been delivering the smell of smoked meats in the air for as long as most can remember. They are known best for their smoked beef brisket which can be plated as a sandwich or sliced alone with your choice of two vegetable sides for $11.59. The sides include pinto beans, baked beans, green beans, longhorn stew, potato salad, cole slaw, and fries. They offer you cornbread and pickles with your meal. If you are feeling brave, they offer an "All You Can Eat" option for $19.95. It is promoted as giving you free rein to eat anything in the restaurant, and then finishing off the meal with a dessert of your choice.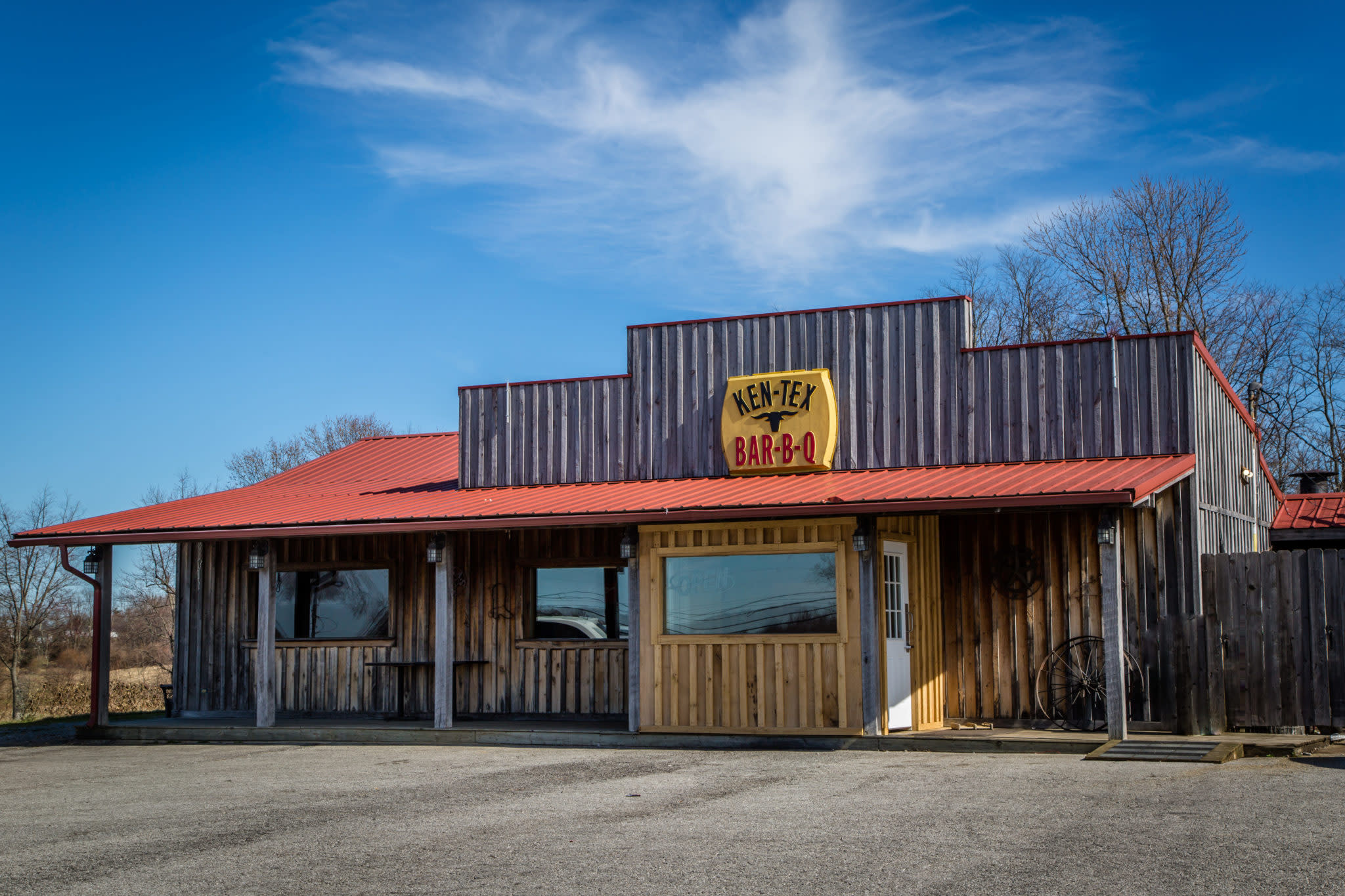 They smoke and season their meats in house and serve a variety of Kentucky and Texas style barbecue with a unique flavor. Ken-Tex also offers a unique custom cooking service to the hunters in the area (call for more information).
Ken-Tex BBQ: open Monday through Friday from 11 am until 8 pm, and Saturdays from 11 am until 9 pm.
McKinley's
In downtown Shelbyville, it's all about the Gouda and Turkey Panini, from McKinley's, which includes a cranberry-pecan mayo, turkey, Gouda cheese, fresh tomato and bacon on home-made focaccia. Served with chips and a pickle for $7.99. Pair your meal with a glass of raspberry tea and a chess bar or caramel apple cookie. Friends looking to avoid gluten, will be pleased with the gluten-free bread available, that's so good you'll do a double check that it is indeed gluten-free.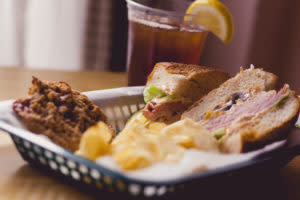 Having served ShelbyKyians for 23 years, this staple is the perfect place to stop in for lunch. McKinley's Bread Shop & Deli, offers a number of lunch options for dine-in, carry-out, and catering. It's hard to go wrong between choosing one of their signature sandwiches or building your own. You'll also want to be sure to try out their homemade soups, salads, and fresh baked desserts.
When you visit, you'll love looking at the historic Shelbyville pictures around the restaurant and sitting in a window seat to watch the people walk by on Main Street.
McKinley's Bread Shop & Deli: open Monday through Saturday from 10 am until 3 pm.
Plan your trip with help from the ShelbyKY Commission & Visitors Bureau at 502-633-6388 or VisitShelbyKY.com.
Written by Allie Hembree Martin
Allie Hembree Martin is a native ShelbyKYian, residing now in Louisville where she lives with her husband, Brandon. Allie is a podcast host, frequent contributor to national publications, and runs a brand management company, Fame and Fortune.