There's no place like a welcoming, warm, community feeling at Thanksgiving, and ShelbyKY abounds with friendly spirit — both the feeling and Kentucky's native spirits with two distilleries. Crisp mornings, warm afternoons, and chilly evenings — just perfect for a Kentucky Bourbon Trail® getaway this fall. 
Wake up in the American Saddlebred Capital of the World.
When you're looking for Kentucky family reunion locations, attending Shelby County Kentucky events, or planning a Kentucky Bourbon Trail trip, there are plenty of places to stay in Shelby County. Whether your preference is a charming bed and breakfast inn, a familiar budget-friendly hotel brand or comfortable vacation home, you'll be close to shopping, dining, equestrian events, and of course the famed Kentucky Bourbon Trail.
Easiest Thanksgiving ever.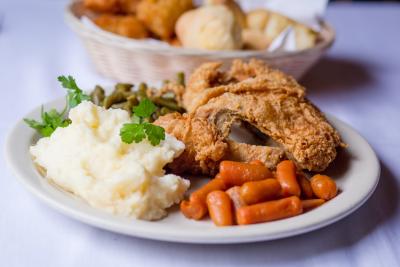 If you are planning to have Thanksgiving dinner in Shelbyville, you'll find a selection of dining options available, but be sure to make your reservations early! The Red Lion at Science Hill offers fine dining in downtown Shelbyville, with a locally sourced traditional Thanksgiving menu with both dine-in and take-out options available. Claudia Sanders Dinner House offers family-style dinner and a Thanksgiving Day buffet.
Torn between hitting the Bourbon Trail or getting your Christmas shopping done?
No worries. At The Outlet Shoppes of the Bluegrass, just off I-64 in Simpsonville in Shelby County, Kentucky, you'll find great Black Friday deals and more than 80 designer and high-end retailers. Black Friday shopping starts at a very early 6 AM and runs until 9 PM.
Sip while you shop.
Be sure to leave space on your shopping itinerary for the gift shops at the distilleries and wineries in Shelbyville and along the Kentucky Bourbon Trail.
Shelby County is the home of two popular and acclaimed bourbon distilleries, Bulleit Frontier Whiskey and Jeptha Creed Distillery. Both distilleries offer tours and tastings and a selection of bourbons and gifts for your special friends and family members.
At Jeptha Creed, you'll experience a unique tour of the farmland and the barrel room for an intimate tasting straight from the barrel. You'll find not only the distinct bourbon, but also a selection of vodka, moonshines, brandy and great gift items. Jeptha Creed will be closed on Thanksgiving Day but will be open Friday through Sunday after the holiday.
Bulleit Frontier Distillery, a favorite for bourbon tours, will also be closed on Thanksgiving Day, but will be open on Wednesday before Thanksgiving and Friday through Sunday after. Bulleit also offers a series of tours and classes during the month on select Fridays and Saturdays. Imagine the fun of making a Smoked Old-Fashioned cocktail on a cold winter evening!
For wine lovers, be sure to stop by Smith-Berry Winery in Newcastle on the northern edge of the Bluegrass Country. Talon Winery in Shelbyville has some great merchandise items and will be open on Friday through the weekend, with live music on Saturdays.
We give thanks for family and friends and for the beauty and bountifulness in ShelbyKY and the Bourbon Trail in Kentucky!