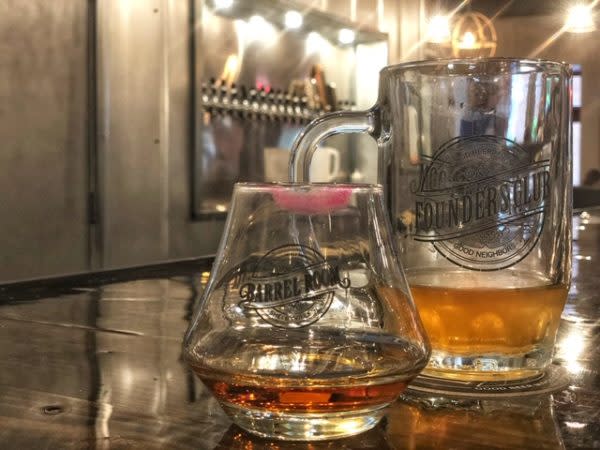 ShelbyKY visitors may see a few new businesses in town if they haven't been home for a while.  Here are a couple of places around the county to wonder into a few familiar faces or pop in for a visit.
A Neighborhood Bar
The Barrel Room, located on Main Street, has become the social place to grab a drink after work or test out you vocals on Friday nights. Showing off a piece of what Kentucky has to offer, you can enjoy the local beers they have on tap, a fantastic selection of bourbon and a few wine options.
While you are there, try the Old Louisville Brewery's Blonde Ale, fittingly called Belgravia Blonde. They describe it as "One of the most approachable styles of beer. The Blonde, or Golden Ale, is an easy drinking beer that is visually appealing. It has no particularly dominating malt or hop characteristics." If you go during a weekend filled with games, you can bet they will have watch parties joined together cheering on their teams.
The Barrel Room is open Thursdays 5:00 pm – 10:00 pm, Fridays and Saturdays from 4:00 pm – 11:00 pm, and Sundays from 2:00 pm – 8:00 pm.
Caffeinated Fix
You can grab your coffee and breakfast for the day at Brick+Mortar Boutique and Coffeehouse, in Simpsonville or The Paddock in Downtown Shelbyville. Brick+Mortar has some of the most creative coffee drinks you will try, and a variety of trinkets for gifts or keepsakes. With plenty of seat options and a menu full of seasonal drinks the Paddock is definitely a place you'll what to gather for an afternoon of catching up with family or friends.
Brick+Mortar Coffeehouse and Boutique is open Monday thru Friday from 6:00 am – 5:00 pm and Saturday from 8:00 am – 5:00 pm.
The Paddock is open Monday thru Friday from 6:30 am – 5:30 pm and Saturday from 7:00 am – 3:00 pm.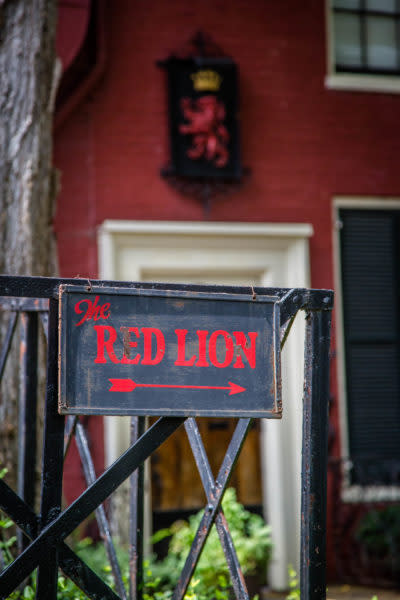 Bite Among Friends
Located within historic Science Hill, The Red Lion offers fantastic pub-style meals. Much of the food has a southern influence, with a few standouts being the fried green tomatoes and salmon croquettes, but make sure someone in your party orders the Pulled Pork Poutine so you can all have a few bites. Enjoy it all with a glass of wine or a pour of bourbon from their extensive bar menu and don't leave without trying the bread pudding or French silk pie for dessert.
The Red Lion is open Wednesdays and Thursdays from 5:30 pm to 9:00 pm and Fridays and Saturdays from 5:30 pm to 10:00 pm.
If you are looking for a more relaxed feel, the authentic Mexican dishes, at La Fogata is the spot! Located in the heart of downtown Shelbyville on Main Street, you can find lunch and dinner options for cheap, or try one of their specialty items. Locals are loving the homemade fresh tortillas used in the dishes. While you are there, make sure you check out the many options of salsa on the salsa bar.
Located on Midland Trail, Poochy's Place offers Southern, comfort food cooking on the go. Their menu includes pulled pork, pulled chicken, rib tips, chicken wings, fish sandwich, chicken tenders and all the sides you love! You'll love the taste of their homemade sauces and seasonings. Don't forget to grab some banana pudding for dessert!
Poochy's Place is open Tuesday through Saturday from 11:00 am to 8:00 pm.
When you need a sweet treat, head over to Serendipity Kandy Kitchen. They are a unique candy store featuring hand-dipped chocolates and ice cream, specialty cakes, pies, desserts, and gifts for every occasion. Their made-in-house scones would be the perfect breakfast treat for your family, but make sure you try their wide variety of flavor cake pops!
Serendipity Kandy Kitchen is open Tuesday through Saturday from 10:00 am to 5:00 pm.
A Little Piece of Home
For an experience like no other be sure to stop in for a tour at Shelbyville's newest distillery, showcasing state of the art sensory tasting - exploring the sights, scents, and sound of Bulleit Frontier Whiskey. The Bulleit Distillery was the latest stop added to the Kentucky Bourbon Trail, becoming the 17th stop on the Trail. Be sure to grab a bottle to go for a piece of home, straight from the fields of Shelby County's local farmers.
The Bulleit Distilling Co. is open Tuesday through Saturday, 9:30am to 4:00pm, and closed on Sunday and Monday and major holidays. Tours run every hour with the first tour beginning at 10:00am, and the last tour beginning at 3:00pm. Reservations are highly recommended, but not required. Up to 29 people can participate in a tour at a time. Tours are $20 per person and include a tasting of the Bulleit portfolio for adults over 21. Tours are free for those under 18.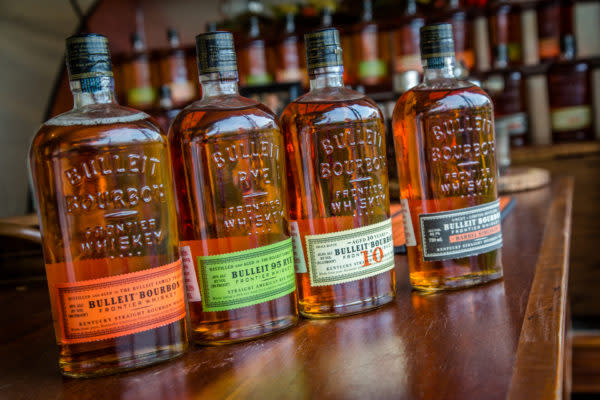 Plan your trip with help from the ShelbyKY Commission & Visitors Bureau at 502-633-6388 or VisitShelbyKY.com.
Written by Allie Hembree Martin
Allie Hembree Martin is a native ShelbyKYian, residing now in Louisville where she lives with her husband, Brandon. Allie is a podcast host, frequent contributor to national publications, and runs a brand management company, Fame and Fortune.