The Bluegrass State...Kentucky...the place where legends are born and bred, and barreled traditions abound. From the iconic Kentucky Derby and its upcoming 149th Running for the Roses on May 6, 2023, to the legendary Kentucky Bourbon Trail, Shelby County, Kentucky sits right in the middle of one of the most beautiful and historic destinations in the country.
Kentucky Derby Week Starts Saturday April 29.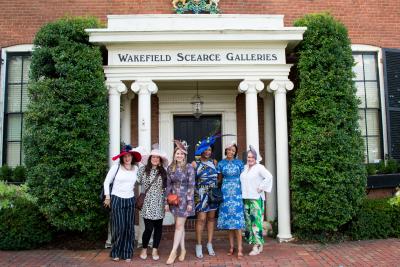 There's no finer time to experience Kentucky than springtime, for Kentucky Derby events or your Kentucky Bourbon Trail getaway. You'll find many places to stay in Shelby County, from familiar hotel brands to upscale dountown loft suites, to unique B&B inns such as Cerulean Farms Bed and Breakfast. Shelbyville is less than an hour away from the week-long events at Churchill Downs in Louisville and a short drive to some of the finest award-winning bourbon distilleries in the world along the Kentucky Bourbon Trail.
ShelbyKY - Shelbyville, Simpsonville, and Shelby County - is a centerground of horse racing and breeding in Kentucky. Located about halfway between Louisville and Lexington, just off I-64, Shelby County has been recognized as the American Saddlebred Horse Capital of the World, producing notable champions, both Saddlebred show horses and hard racing Thoroughbreds. With its rolling hills and picturesque bluegrass pastures, Shelby County is home to more than 90 Saddlebred and Thoroughbred horse farms for training, boarding and breeding, as well as some of the best horse farm tours in Kentucky, many of which are available with advance reservations.
Big Hats and Bowties
Colonel Meriwether Lewis Clark Jr introduced the first Kentucky Derby before more than 10,000 spectators on May 17, 1875 at Churchill Downs. When Colonel Clark travelled to Europe in 1872, he was enthused by the long-running Epsom Derby in England and inspired by the French Jockey Club and their popular horse race, the Grand prix de Paris Longchamps. Upon his return to Kentucky, he founded the Louisville Jockey Club, and on acreage provided by his uncles John and Henry Churchill, built a permanent racetrack...now revered as Churchill Downs.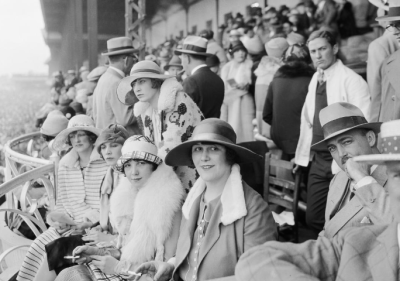 Inspired by the fashionable European racing events, Colonel Lewis Jr set out to encourage the attendance and participation from the socially prominent segments who saw the races as an opportunity to show off their wealth and their finery. For ladies of the day, this of course, was an occasion to showcase their most beautiful hats. The tradition continues today as ladies, Southern or not, parade their finest spring fashions and most beautiful and extravagant hats on Derby Day. 
Derby fashion is not lost on the gentlemen...Seersucker, brimmed hats and bowties are as much a tradition and Southern charm for the male spectators as Derby hats are for the women.
In historic downtown Shelbyville, you'll have fun shopping at boutiques like the Polka Dotted Pineapple, which purveys hats and fashionable clothing perfect for not only Derby Day, but also for a visit to the Kentucky Bourbon Trail.
For a selection of designer label men's and women's fashions, The Outlet Shoppes of the Bluegrass in Simpsonville, features retailers such as Gucci, Michael Kors, Kate Spade, Tory Burch, Polo Ralph Lauren, Vera Bradley...and much more.
 Bourbon and Juleps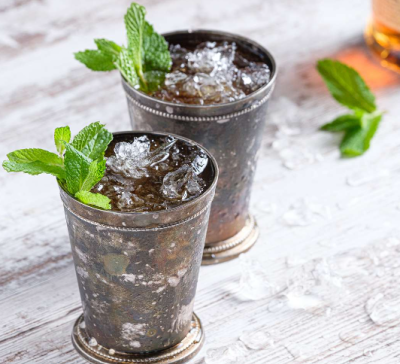 The Mint Julep is the Official Beverage of the Kentucky Derby and a true symbol of Southern hospitality. A popular drink from early on in Derby history concocted from Bourbon, sugar, water, muddled, then topped off with abundant sprigs of mint. Traditionally, mint juleps were served in silver cups like the ones now available from Wakefield-Scearce Galleries in Shelbyville. Their Presidential Mint Julep Cup by Mark J. Scearce, hand engraved with the United States Presidential Seal, has been awarded to each US President since Franklin D. Roosevelt. A true mark of Kentucky heritage and a very special souvenir of your Bourbon Trail getaway.
Kentucky Bourbon is a whiskey like no other. Kentucky Bourbon is the unmatched result of northwestern Kentucky terroir. Aged in new charred wooden barrels in the perfect climate of cold winters and warm summers, combining perfect ingredients like corn grown in mineral rich soils, limestone rich water, and legacy distilling techniques, Kentucky Bourbon is one of the finest whiskeys in the world and is synonymous with Kentucky heritage and Southern hospitality.
The Kentucky Bourbon Trail is a legend in itself and a must, as part of your Kentucky Derby experience. ShelbyKY is the ideal destination to start planning a bourbon trail trip.
Shelbyville is the home of Bulleit Distilling Company and its award winning Bulleit Frontier Whiskey. In 2020, Bulleit received the "Highly Commended" award for Sustainable Distillery of the Year from Whiskey Magazine. What Bulleit is really known for is its distinctive bold but yet smooth taste - and their mint julep is a real winner.
Bulleit Distilling is only a short drive to other distilleries on the Kentucky Bourbon Trail as well as to Jeptha Creed Distillery, an award winning mother/daughter owned distillery on the Kentucky Craft Bourbon Tour, which is also located in Shelbyville. Jeptha Creed also distills unique vodkas and moonshines infused with local ingredients such as apples, blueberries, and honey from their own hives.
Shelbyville lies just off I-64, under an hour drive from the horse racing meccas of Louisville and Lexington. Chicago is a five hour drive away, Nashville, TN a three hour drive, and Atlanta is just over a six hour drive from Shelbyville, Kentucky.
Whether you're visiting for the Kentucky Derby, planning a Bourbon Trail getaway, attending Shelby County Kentucky Events, or simply enjoying the beauty of the American Saddlebred Capital of the World, ShelbyKY is a wonderful Visitors Guide to Your Bourbon Destination with plenty of things to do.