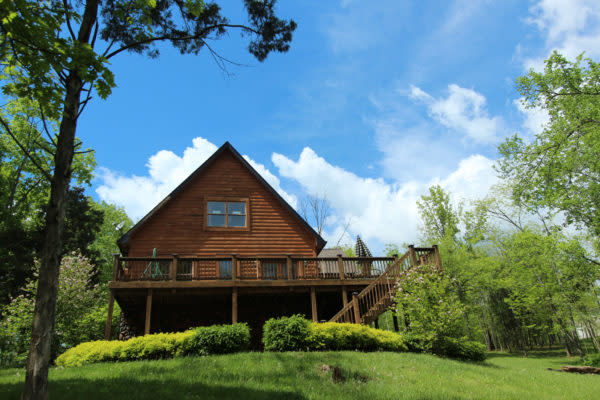 Road Trip: Unplug and Escape in ShelbyKY
Take the time to retreat to the country side for an escape filled with beautiful scenery. ShelbyKY is known for its regal, remote yet stunning stretch of land, perfect for a weekend full of memories.
While ShelbyKY offers numerous Airbnb options, particularly in the downtown area, if you are looking to stay more connected to the city offerings, there is one in particular that offers an intimate spot for a weekend hideaway, Chandler Ridge. This cabin rental can be great for a couple or family, but also offers enough space to accommodate a retreat, training seminar, church group, or event. Accommodations are flexible to meet the needs of two guests, up to 25 guests.
This beautiful cabin offers 3,250 square feet and is surrounded by woods. It features a recreation room with air hockey, foosball, pool, and poker table. The outdoor area offers hiking, stargazing, wildlife viewing, fishing, and cooking on the grill.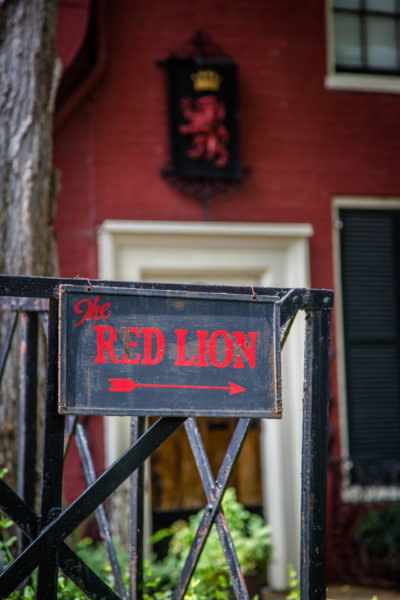 After checking into your oasis, head into town to dine at The Red Lion, located within the historic Science Hill. With their newly added outdoor patio, you can enjoy the peaceful atmosphere of live music under string lights while enjoying your pub-style meal. Much of the food has a southern influence, with a few standouts being the fried green tomatoes and salmon croquettes, but make sure someone in your party orders the Pulled Pork Poutine so you can all have a few bites. Enjoy it all with a glass of wine or a pour of bourbon from their extensive bar menu and don't leave without trying the bread pudding or French silk pie for dessert. The Red Lion is open Wednesdays and Thursdays from 5:30 pm to 9:00 pm and Fridays and Saturdays from 5:30 pm to 10:00 pm.
Within walking distances from the Red Lion is The Barrel Room where you can finish your day with a night cap. The Barrel Room, located on Main Street, will also give you a great view of all that downtown Shelbyville has to offer. You can enjoy the many local beers they have on tap. An extension of the Old Louisville Brewery, they also offer wine and bourbon.
While you are there, try the Old Louisville Brewery's Blonde Ale, fittingly called Belgravia Blonde. They describe it as "One of the most approachable styles of beer. The Blonde, or Golden Ale, is an easy drinking beer that is visually appealing. It has no particularly dominating malt or hop characteristics." If you go during a weekend filled with games, you can bet they will have watch parties joined together cheering on their teams. Come with your vocal cords warmed up, as you may catch them during a karaoke night. The Barrel Room is open Thursdays 5:00 pm – 10:00 pm, Fridays and Saturdays from 4:00 pm – 11:00 pm, and Sundays from 2:00 pm – 8:00 pm.
Head to Simpsonville for your final day of the trip. You can grab your coffee and breakfast for the day at Brick+Mortar Boutique and Coffeehouse, just down the road from the famous Purnell's Sausage Company. Brick+Mortar has some of the most creative coffee drinks you will try. A crowd favorite from the fall menu includes the Lumber Jack Latte, which includes maple syrup, hickory smoke, espresso, steamed milk, cinnamon, and sea salt. It's basically the outdoors in a mug! If you prefer something sweet, you will want to try the Pumpkin Pie Frappe. It includes whole milk, pumpkin pie flavoring, espresso, whip cream, graham cracker and cinnamon.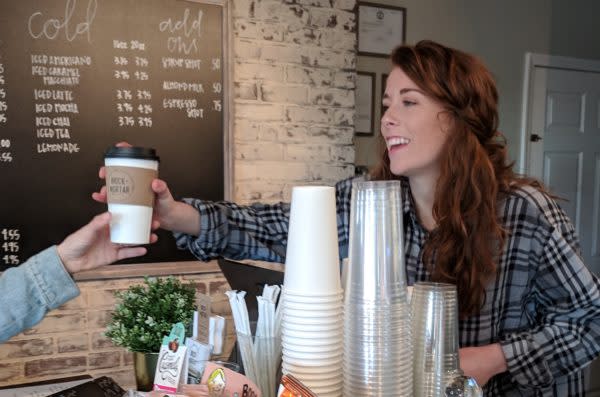 Cinnamon rolls are made locally at Weathered Oak Farms in Simpsonville and served hot. They also source their English muffins from Little Creek Farm in Waddy. Their boutique is the perfect place to pick up a souvenir to remember your trip or for the upcoming gift-giving season.. They have all kinds of Shelby County and Kentucky branded merchandise including t-shirts, bracelets, pillows and greeting cards. Brick+Mortar Coffeehouse and Boutique is open Monday thru Friday from 6:00 am – 5:00 pm and Saturday from 8:00 am – 5:00 pm.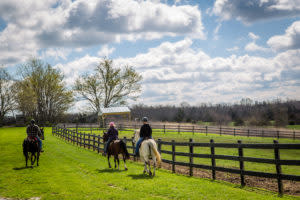 After your belly is full, burn off your extra energy at Red Fern Riding Center at Shelby Trails Park. This park features gorgeous hiking trails that are available for free, but you can also have a private, guided horseback ride for up to 5 people. Children must be over the age of 8 years old to participate, the tour lasts one hour, and you will have your picture made while on the horse.  The owner described the experience as "the horses know their job really well; you can just get on one and ride."  If you happen to be traveling through ShelbyKY and have your horse with you, you can purchase a day pass that allows you to ride the trails independently and with your own horse.
Before you get back on the road, you can't miss the opportunity to score some deals at The Outlet Shoppes of the Bluegrass. Located on I-64, this is Kentucky's only designer outlet shopping center, with more than 90 stores including GUCCI, Tory Burch, Michael Kors, Kate Spade, The North Face, Under Armour, Nike, Polo Ralph Lauren, and American Eagle Outfitters. Open Monday thru Saturday 10 am – 9 pm and Sunday 10 am – 7 pm.
Plan your trip with help from the ShelbyKY Commission & Visitors Bureau at 502-633-6388 or VisitShelbyKY.com.
Written by Allie Hembree Martin
Allie Hembree Martin is a native ShelbyKYian, residing now in Louisville where she lives with her husband, Brandon. Allie is a podcast host, frequent contributor to national publications, and runs a brand management company, Fame and Fortune.