Shelbyville, Kentucky is group travel's hidden gem.
Host your next group getaway in a charming small-town community known for scenic rolling hills, horse farms, and bourbon distilleries, and those RSVPs will be a definite "YES!" Shelbyville, Kentucky has everything a group needs, whether you're planning a conference, meeting, team-building exercise, retreat, incentive reward, trade show, or banquet.
1. Location, location, location. What's true for Real Estate is true for meeting planners, too: A great location adds value. It simplifies planning, appeals to invitees, and has whatever is needed to meet your goals. Positioned less than a day's drive from over half of the U.S. population and within an hour of both the Louisville and Lexington airports, Shelbyville is easy to reach. From modern meeting facilities to comfortable accommodations, abundant activities to delicious food, Shelbyville is ready to welcome groups of any size.
2. State-of-the-art capabilities for in-person gatherings as well as hybrid events. The Shelbyville Conference Center, managed by ShelbyKY Tourism and located in the heart of historic downtown Shelbyville, offers more than 16,000 square feet on one floor. Designed by award-winning, Kentucky-based architectural and design firm EOP, the airy, light-filled space can seat 500 people banquet-style or can be set up as three smaller rooms. An outdoor patio and pre-function space can also accommodate gatherings. An on-site prep kitchen stands ready for caterers. A dance floor and stage are both available upon request, along with tables, chairs, and linens included in select packages. With three historic silos outside and a contemporary equine theme throughout the interior spaces, the space is visually stunning as well as functional.
3. Space for groups of any size. In addition to the new Center, a wide variety of venues from hotel meeting rooms to private businesses to community centers is available for groups up to 1,000 people. Among the options, Talon Winery offers space outdoors near the vineyards or in the barrel barn, Jeptha Creed Distillery has a clubhouse plus covered patio with views of rolling hills, the Waldridge Center is located within the bustling Family Activity Center, Red Orchard Barn is housed on 131 acres of lush land with pasture and mature trees woven with hiking and horseback trails, Eden Springs Farmstead has a renovated 200-year-old tobacco barn on 200 acres with grazing cattle, and Stargazer Plaza is a pavilion located in the heart of downtown.
4. Convenience in Shelbyville's historic downtown means that boutique shops, spas, galleries, restaurants, accommodations, scenic parks, and the new Center are all within easy walking distance of one another. Minutes from the Shelby County Community Theatre, The Red Lion, and You'll find a wide range of ways to entertain any group, from shopping opportunities to bourbon tastings, art experiences to live musical entertainment.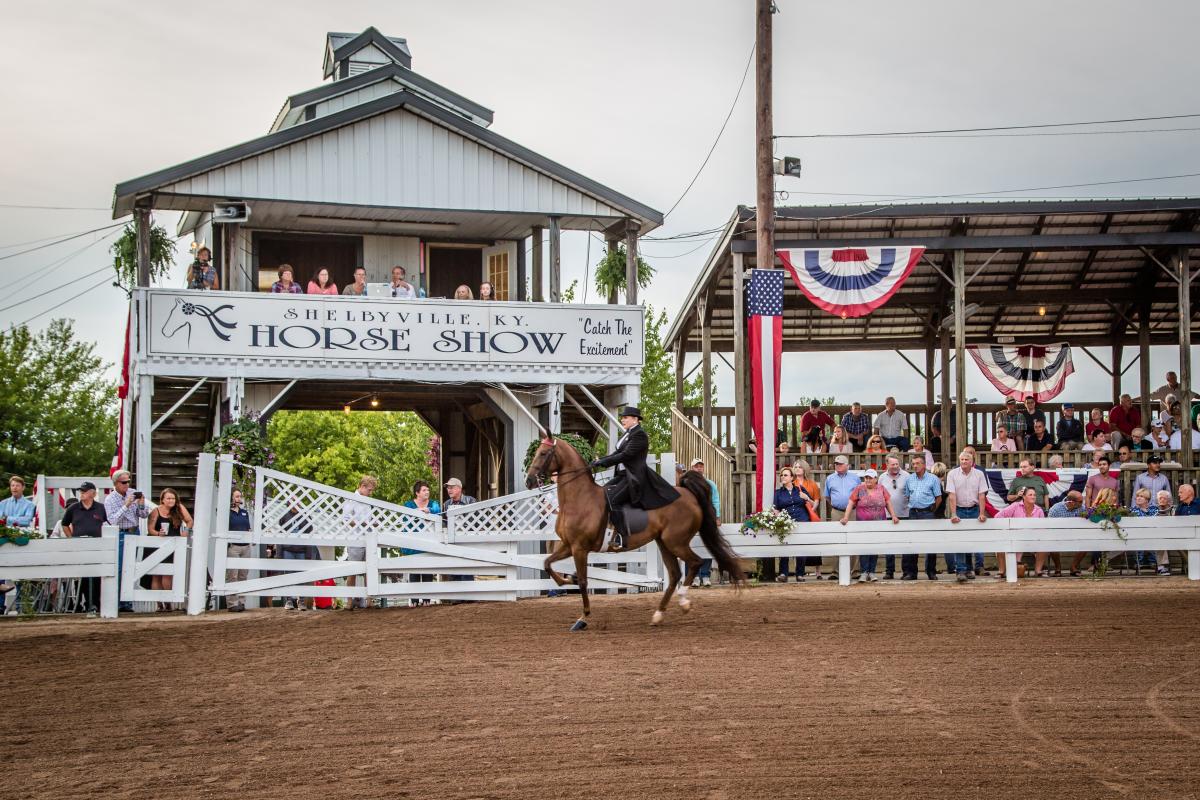 5. Fun things to do can be found throughout Shelbyville. Explore the historic downtown. Go to a horse show or enjoy a guided ride on rolling pastureland. Play golf. Tour distilleries. Visit botanical gardens. Walk, run, or play sports at Clear Creek Park that sprawls over 130 acres. Shop The Outlet Shoppes of the Bluegrass, the only designer outlet shopping center in the state of Kentucky. Or discover Shelby Main Street's eclectic mix of one-of-a-kind shops. Don't miss Wakefield-Scearce Galleries that houses one of the world's largest antique silver collections as well as one of the nation's largest collections of antique English furniture and antique home décor.
6. Delicious food is on the menu throughout ShelbyKY. Claudia Sanders Dinner House carries on the cooking traditions of Colonel Sanders and his wife, Claudia, with traditional Kentucky favorites including fried chicken, sugar-cured ham, hot browns, pies, and more. The place is homey yet has banquet facilities to seat up to 1,000 people. For a dine-around plan, downtown eateries include cozy pub The Red Lion at Science Hill where familiar favorites are house-made, Bell House Restaurant with several different Tuscan- and French-themed dining rooms, and La Cocina de Mama where Mexican fare is made using high-quality ingredients.
7. Experience Kentucky Bourbon Country at Shelby County distilleries. Jeptha Creed Distillery transforms the Nethery family's heirloom corn into award-winning spirits. Take a guided tour to learn about the production process, enjoy a tasting of several spirits, or stop by the bar to sip seasonal cocktails. Bulleit Distilling Co. offers multiple tours including an interactive sensory tour and processes and technologies tour. Stick around to sip cocktails, play board games, or even create a custom bottle label at the design kiosk.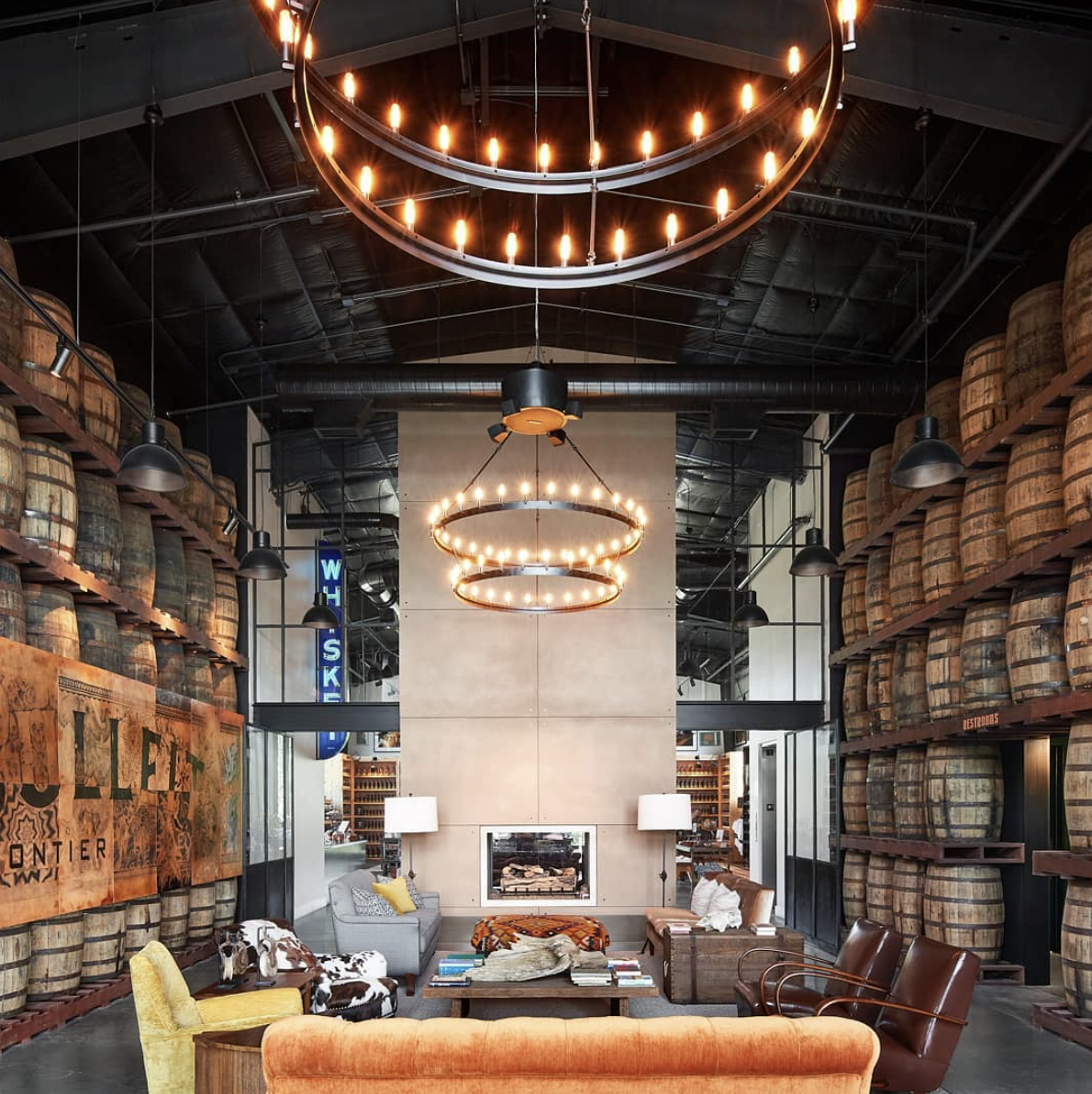 8. Unique opportunities. Shelby County is home to 90-plus Saddlebred horse farms, breeding, and training facilities and is known as the "American Saddlebred Capital of the World." Get a behind-the-scenes peek into the Saddlebred world at places like Kismet Farm where show horses are trained. Learn about Icelandic Horses at Lettleiki Icelandics and thoroughbreds at West Meadow Farm. Saddle up for a guided ride at Shelby Trails Park where miles of trails weave through 462 forested acres.
9. Night life is a fun way to unwind after a productive day. The Barrel Room, housed in a reclaimed building on Shelbyville's Main Street, offers pub games and live music plus has 20 beers on tap plus a selection of wine and bourbon. Distilleries and wineries also host evening events including live musical entertainment. 
10. Accommodations range from brand-name hotels—several of which also offer on-site meeting rooms—to private rental properties. Downtown Shelbyville boasts several distinctive Airbnbs to accommodate groups of any size including four of the city's most luxurious options: Saddlebred Suites offers two-bedroom suites and studios as well as the option to rent the entire property, Urban Loft Downtown is a breathtaking high-end loft that comfortably sleeps up to 17, Le Coop Loft is a luxury loft that sleeps five, and Bottled In Bond is a swanky top-floor unit that sleeps 10.
For more information contact the ShelbyKY Commission & Visitors Bureau at 502-633-6388 or VisitShelbyKY.com.