Summertime is in full swing, and the timing is perfect for traveling in Kentucky. When most people think about Kentucky, what usually comes to mind are horses and bourbon, and Shelby County, Kentucky – ShelbyKY – serves up the best of both.  Add a large dose of country music superstar Luke Bryan and it all adds up to a perfect Kentucky getaway.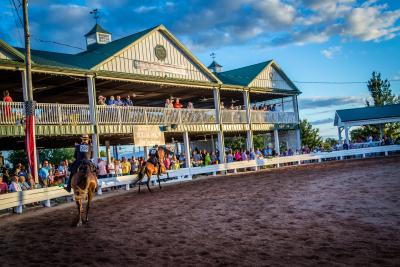 Shelby County is home to the Shelbyville Horse Show, a world-famous equestrian event for over 30 years, taking place annually during the first week of August.  This year, the Shelbyville Horse Show will take place August 2-5 at the Shelbyville Fairgrounds.
A favorite of Kentucky horse shows, the Shelbyville Horse Show showcases the very finest of the American Saddlehorse breed in performance, championship and harness competitions and is a favorite among equestrians and spectators alike. 
The star-studded annual Shelbyville Horse Show is also the backdrop for the Horseman's Club Charity Gala, benefiting HorseSensing, a 501c3 non-profit charity organization that assists veterans and people in recovery.  The Gala includes a special Veterans' Night program and promises lots of entertainment, live music, fabulous food, and of course, the Shelbyville Horse Show. We hope you will "Catch the Excitement"!
With more than 90 horse breeding and training farms, Shelby County has the very honorable designation as the American Saddlebred Capital of the World. Its rolling bluegrass pastures are not only picturesque, but they also provide the utmost nutrition and conditions for raising these show horse champions of the equine world.
While you are visiting Shelby County, be sure to visit one of the many horse farms and training facilities in the area. Kismet Farm is a classic Kentucky show horse farm in the heart of American Saddlebred country offering riding lessons for all ages and ability levels. Reservations requested.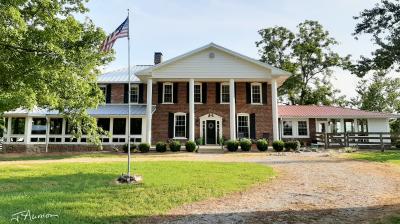 You can even stay on a horse farm. Cerulean Farm, a historic 1860 Bed and Breakfast homestead is a working horse farm with equestrian-themed rooms, beautiful farm views, and a hot breakfast daily. And, the best part is you can bring your horse!
Speaking of farm tours…Luke Bryan Fans, you simply cannot miss the Luke Bryan Farm Tour 2023, Mulberry Orchard in Shelbyville, on September 14. Tickets are going fast — order your tickets today and get your country on!
Stay in Shelbyville!
Shelbyville is a perfect home base for your horse show, concert, or Bourbon Trail experience.  You'll find a variety of places to stay in Shelby County, from recognized brands to charming B&B inns and vacation homes, and all are convenient to the famed Kentucky Bourbon Trail.
Jeptha Creed in Shelbyville is a mother-and-daughter-owned distillery that grows its own Bloody Butcher corn and other ingredients for its bourbon, vodkas, and moonshine on the family's 1,200-acre farm. As a part of the Kentucky Bourbon Trail Craft Tour, a collection of small heritage distilleries, Jeptha Creed offers a unique straight-from-the-barrel tasting experience you won't want to miss!
Bulleit Distilling Company, on the Kentucky Bourbon Trail, is acclaimed for its award-winning Bulleit Frontier Whiskey and Bulleit Rye Whiskey. Located in Shelbyville, Bulleit features a state-of-the-art distillery, a modern visitors center, cocktail bar, and patio. Make sure to book your tour and tasting early, as space fills up quickly. 
As you are traveling the Bourbon Trail in Kentucky, please be safe! Let one of our many transportation companies take the wheel so you can relax and enjoy ShelbyKy — Your Bourbon Destination.
Jeptha Creed Distillery — the first distillery in Shelby County since prohibition…
The newest of Shelby County's two distilleries, Bulleit Distillery, is committed to…
Leave the world behind as gates open and invite you down an enchanted sugar…