Shelbyville is the home of Bulleit Distilling Company and their award-winning Bulleit Frontier Whiskey. Distilled and aged in the Bulleit family tradition using a distinctive high rye recipe, the state-of-the-art distillery received the 2020 "Highly Commended" award for Sustainable Distillery of the Year from Whisky Magazine, recognizing the distillery's focus on natural habitat protection, water conservation, and local ingredient sourcing.
Enjoy the Bulleit Experience. Take a tour of Bulleit Distilling Company distillery and grounds, indulge in a single barrel bourbon tasting, or reserve a Valentine's Cocktail Class - Smoked-N-Smitten! Reservations are recommended.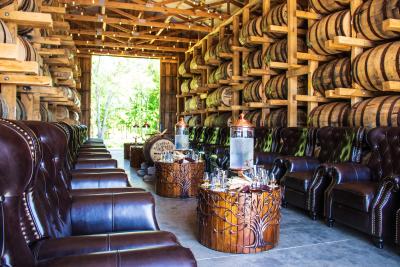 Jeptha Creed Distillery in Shelbyville is part of the Kentucky Bourbon Trail Craft Tour®.  Family-owned and operated by mother and daughter distillers Joyce and Autumn Netherly, Jeptha Creed is committed to its family heritage and authentic and sustainable distilling methods — in other words, while a restaurant might be farm-to-table, Jeptha Creed is ground-to-glass. They grow their own heirloom Bloody Butcher Corn, which gives their bourbon, moonshine, and vodka a distinct and pleasing taste. Plus, what they cannot grow themselves, they source locally for all of their products. Even the honey in the Honey
You'll enjoy a unique tasting experience within the distillery barrel barns and a tasting straight from the barrel as you learn the Jeptha Creed story. 
Book a tasting experience or stop in for a drink and food at the Creed Café.
For wine lovers, treat yourself to wine tastings around Shelbyville, just another fun thing to do while planning your Kentucky Bourbon Trail vacation.
The tasting room at Talon Winery is open seven days a week, with free music on the weekends. Smith Berry Winery is open Monday through Saturday, with live concerts throughout the year.