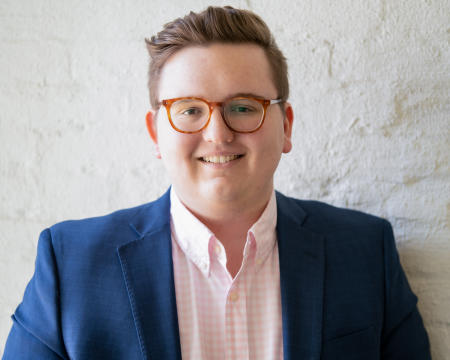 Shelbyville, Ky. (Nov. 16, 2023) — Mason Warren, director of marketing and public relations for ShelbyKY Tourism, was recognized at the annual Kentucky Travel Industry Association conference for completion of the Certified Kentucky Tourism Professional program.  
The year-long certification program, administered by the Kentucky Travel Industry Association (KTIA), was revamped in 2017 and requires participants to complete two dozen classes, educational sessions, and community service activities in communities throughout Kentucky. Class topics included sessions on creating memorable bourbon experiences, the importance of tourism and economic development, and emerging social media marketing trends.  
"I am grateful for the opportunity to learn more about Kentucky's most exciting and largest industry," said Warren. "The team at KTIA has created wonderful learning and professional development opportunities through the CKTP program, and I am looking forward to continuing to put what I've learned to use for ShelbyKY Tourism and my hometown." 
Warren, who is a lifelong resident of Shelbyville, has worked at ShelbyKY Tourism since August 2021. He oversees marketing, advertising, and public relations for the destination marketing organization. In addition to having attended the University of Louisville and receiving his Certified Kentucky Tourism Professional designation, he holds a Professional in Destination Management certification issued by Destinations International. He is completing the nationally recognized Tourism Marketing Professional program through the Southeast Tourism Society, has been commissioned as a Kentucky Colonel, and is the secretary of the board at the Shelby County Community Theatre. 
###
About ShelbyKY — ShelbyKY (Shelbyville, Simpsonville and Shelby County) is Your Bourbon Destination. Home to two distilleries — Bulleit Distillery and Jeptha Creed Distillery — and located on the Kentucky Bourbon Trail®, ShelbyKY offers an array of bourbon-centric lodging, shopping and dining. ShelbyKY is perfectly positioned for easy access to Louisville, Lexington, and Northern Kentucky. Pair dining at classic favorites like Claudia Sanders Restaurant and local staple Bell House Restaurant with Kentucky's only designer outlet mall, and there's much to see, do, and taste in ShelbyKY. Home to 90-plus Saddlebred horse farms, ShelbyKY offers a rare peek into the world of the Saddlebred show horse and is known as the Saddlebred Horse Capital of the World. Outdoor adventures await those who enjoy fishing, canoeing, horseback riding, and golf. We invite you to follow @visit_shelbyky on Instagram and @visitshelbyky on Facebook and learn more about ShelbyKY at www.visitshelbyky.com. 
Media contact: Debra Locker, Debra Locker Group — debra@lockerpr.com | (859) 536-0282