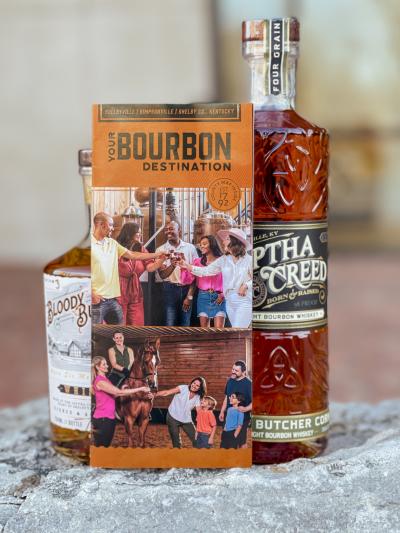 Shelbyville, Ky. (Nov. 13, 2023) — ShelbyKY Tourism - the destination marketing organization for Shelbyville, Simpsonville, and Shelby County, Kentucky - received recognition and awards for its marketing efforts at this year's Kentucky Travel Industry Association annual conference in Bowling Green. The DMO received a silver Traverse award for its streaming TV advertising campaign in the state's key Chicago market, a bronze Traverse award for its 2023 visitor guide, and a bronze Traverse award for the Shelbyville Conference Center promotional video.
Using cost-effective methods, the DMO ran streaming advertisements in the Chicago television market, generating more than 2.1 million impressions in the key market and garnering a silver Traverse award for television advertising. The streaming and display advertising, which focused on ShelbyKY's position as Your Bourbon Destination, resonated with Chicagoans; ShelbyKY has already seen increased visitation from Chicago and is on pace to welcome even more visitors in 2024.
"We are so pleased to be recognized for our marketing efforts at this year's KTIA conference," said Janette Marson, President & CEO of ShelbyKY Tourism. "Our streaming advertising campaign and visitor guide are key ways to introduce potential visitors to ShelbyKY: Your Bourbon Destination. Chicago is a key market for visitors to ShelbyKY and Kentucky as a whole, and we are glad to be able to promote ShelbyKY on a national level."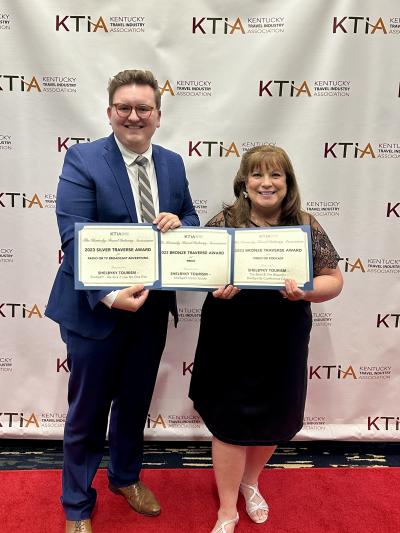 ShelbyKY Tourism was one of only three tourism offices in the state to be recognized for its visitor guide (pictured), winning a bronze Traverse award for print marketing. Since this January, the visitor guide has seen domestic and international distribution to all 50 states and three Canadian provinces. The 2023 visitor guide was the first the DMO had produced since 2018. The guide includes a custom map of Shelby County and listings for businesses, restaurants, and attractions in the ShelbyKY area.
The Shelbyville Conference Center promotional video also received recognition, winning a bronze Traverse award for video production. The conference center, built by the City of Shelbyville and managed by ShelbyKY Tourism, celebrated its two-year anniversary in October and has welcomed more than 500 events, conferences, and celebrations.
The Traverse Awards are issued each year at the annual Kentucky Travel Industry Association Annual Conference, recognizing excellence in marketing, advertising, and public relations among Kentucky's tourism and travel industry.
###
About ShelbyKY — ShelbyKY (Shelbyville, Simpsonville and Shelby County) is Your Bourbon Destination. Home to two distilleries — Bulleit Distillery and Jeptha Creed Distillery — and located on the Kentucky Bourbon Trail®, ShelbyKY offers an array of bourbon-centric lodging, shopping and dining. ShelbyKY is perfectly positioned for easy access to Louisville, Lexington, and Northern Kentucky. Pair dining at classic favorites like Claudia Sanders Restaurant and local staple Bell House Restaurant with Kentucky's only designer outlet mall, and there's much to see, do, and taste in ShelbyKY. Home to 90-plus Saddlebred horse farms, ShelbyKY offers a rare peek into the world of the Saddlebred show horse and is known as the Saddlebred Horse Capital of the World. Outdoor adventures await those who enjoy fishing, canoeing, horseback riding, and golf. We invite you to follow @visit_shelbyky on Instagram and @visitshelbyky on Facebook and learn more about ShelbyKY at www.visitshelbyky.com. 
Media contact: Debra Locker — debra@lockerpr.com | (859) 536-0282