When it's time to grab the guys and head out for the weekend – we have the perfect destination, ShelbyKY. With a variety of activities to fill the days, and some local favorites perfect to unwind at night. Cheers to an itinerary that is already planned for when you're ready to head this way.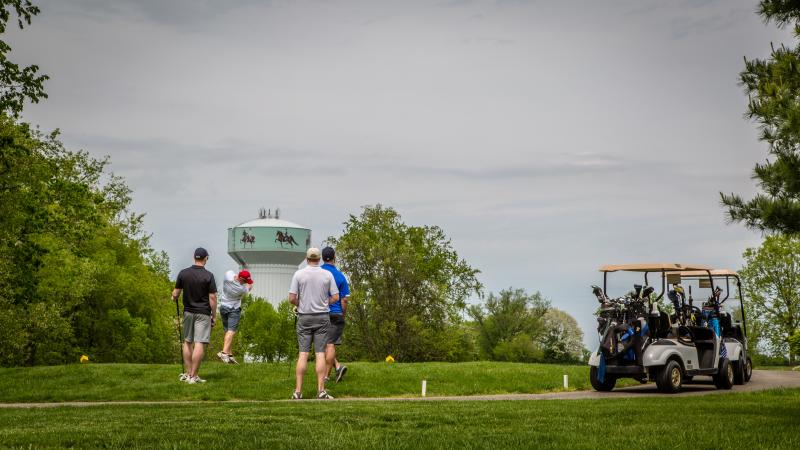 What to Do
It's not a Kentucky trip without bourbon. Make plans to tour both distilleries located in ShelbyKY. The newest, Bulleit Distilling Co., opened its doors to visitors last summer. In their tour "The Frontier Whiskey Experience," you will learn all about the cultural creators, entrepreneurs, and tastemakers that helped revive Augustus Bulleit's high-rye whiskey and create the bold, beloved Bulleit Frontier Whiskey of today.
Also located in ShelbyKY, Jeptha Creed Distillery's bourbon experience is the most unique of its' kind. At arrival, you will be guided to Jeptha Creed's farmland where you will be welcomed by a very intimate setting within our barrel barns. A tour host will take you through the story of Jeptha Creed, finishing with a personalized tasting straight from the barrel. Tours are $45 per person, last one hour, and are by reservation only. Grab a jar of their 4-grain Kentucky moonshine from the Gift Shop to take a piece of ShelbyKY home with you.
Now for your round of golf – you are in luck! ShelbyKY has three courses to choose from, and if you can't decide, we suggest you play all three!
Where to Eat
A great spot for a small group dinner requires you to head into town to dine at The Red Lion, tucked behind the historic Science Hill. With their outdoor patio, you can enjoy the peaceful atmosphere of live music under string lights while enjoying your pub-style meal. Much of the food has a southern influence, with a few standouts being the fried green tomatoes and salmon croquettes, but make sure someone in your party orders the pulled pork poutine so you can all have a few bites. And did we mention a fantastic bourbon bar.
Extend your night on the town with a short walk to The Barrel Room for a night cap. The Barrel Room, located on Main Street, in the heart of downtown Shelbyville.  You can enjoy the many local beers they have on tap, or their extensive bourbon collection. An extension of the Old Louisville Brewery, they also offer wine and cocktails.
Where to Stay
ShelbyKY is centrally located for the perfect hub and spoke traveler.  Stay for a night or two at Bottled in Bond. This Airbnb rental has been featured on HGTV. It is a has a swanky and dramatic vibe, meant to replicate a scene from a James Bond movie. Offered at an average of $686 per night, the hosts can make your stay extra special by arranging chauffeured transportation, private chef accommodations, and dinner reservations.
Plan your trip with help from the ShelbyKY Commission & Visitors Bureau at 502-633-6388 or VisitShelbyKY.com.
Written by Allie Hembree Martin
Allie Hembree Martin is a native ShelbyKYian and after years of traveling the globe has returned to live in Shelbyville with her husband, Brandon. Allie is a podcast host, frequent contributor to national publications, and runs a digital marketing company, Fame and Fortune.