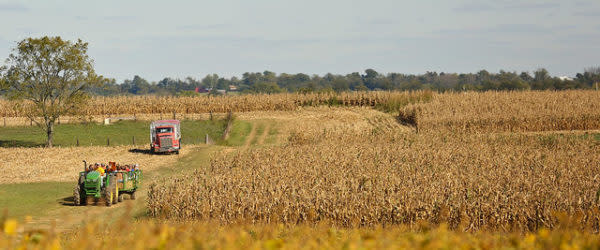 Fall Destination:
Mulberry Orchard is a family farm located in Shelbyville, Kentucky situated off Highway 43. Started by Matt and Amanda Gajdzik in 2010, they set out to sell quality, local produce to the surrounding communities.
"We have the mission of being farm fresh family fun and everything we do here reflects that," said Amanda Gajdzik.
The Mulberry Orchard Harvest Fest will be the family friendly ShelbyKY spot to visit this fall. Beginning the last weekend in September and continuing through October, families can experience hayrides through the pumpkin patch, navigate themselves through the corn and soybean mazes, get the chance to be up-close and personal with goats, and explore a very-fitting farm-style playground that includes a combine slide, swings, hamster wheels, corn bus, and more. And of course, take home the perfect pumpkin that you pick from our pumpkin patch
For non-stop family fun, you can purchase a $20 Fall Family Fun Pass which offers unlimited visits for your entire family to have access to the playground, mazes, and hayrides. This can be used anytime in October. This pass gives you the opportunity to make some family memories outdoors while the weather still permits.
While there, look no further for local, fresh produce. The Mulberry Market offers a wide variety of items to take home and feed your family. They sell goods from 20 Kentucky Proud farms including pork, veggies, eggs, apple cider, chicken, ice cream, cheese, honey, baked goods, etc. Additionally, they have items sold there that were grown on Mulberry Orchard grounds including 17 varieties of apples, gourds, pumpkins, oriental corn, and tomatoes. The market is full of country charm and is the perfect place to pick up unique hand-crafted items from local artisans. For folks who have moved away from this area, anything sold here would be a great gift to remind them of their old Kentucky home. This could also be a good opportunity to start some holiday shopping with some many options that you can find elsewhere.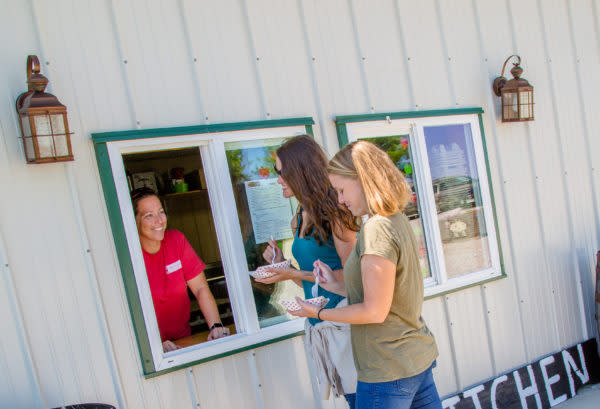 But if you don't feel like taking food home to cook yourself, just let them do the cooking. Mulberry Orchard Café offers a full lunch menu every day including a pulled pork sandwich, cheeseburger, and a chicken salad sandwich on croissant. The options for sides are apple and honey coleslaw, potato salad, and chips. But you can't leave without trying one of their homemade treats made with their products. Since the peach season is behind us, now it is all about the apples. You have the choice of fried apple pies, apple cider donuts, apple bread, whole apple pie, or a caramel apple.
If you stop by on the weekday and you see a bus full of students, they are visiting because Mulberry Orchard offers a service to surrounding elementary schools. Students from schools in Jefferson, Henry, Oldham, and Shelby counties travel as a class every weekday and participate in an educational tour of the farm. This tour teaches students where their food comes from by showcasing their beef cattle, grain crops, bees, orchard, and pumpkins. If you are a teacher and you would like your class to take a tour, call to schedule. They also have options available for group tours and corporate picnics, as they have a 30' x 70' event pavilion and offer catering.
Mulberry Orchard's hours of operations are Tuesday – Saturday 9 am – 6 pm, and Sunday 1 – 5 pm. They are located at 1330 Mulberry Pike, Shelbyville, KY 40065 and can be reached at 502-655-2633.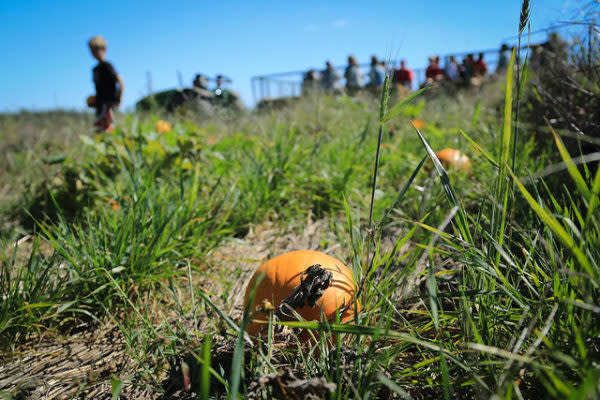 Plan your trip with help from the ShelbyKY Commission & Visitors Bureau at 502-633-6388 or VisitShelbyKY.com.
Written by Allie Hembree Martin
Allie Hembree Martin is a native ShelbyKYian, residing now in Louisville where she lives with her husband, Brandon. Allie is a podcast host, frequent contributor to national publications, and runs a brand management company, Fame and Fortune.