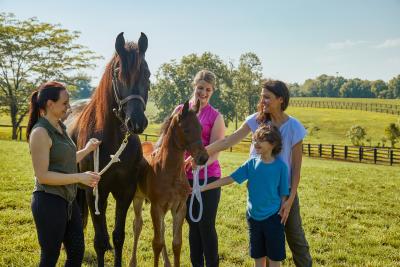 You don't have to look very hard to find reasons to discover and enjoy beautiful ShelbyKY. A scenic drive through Shelby County will charm you with its vistas of rolling bluegrass hillsides, miles of fences defining countless horse farms, and a glimpse of the equestrian life that defines this Saddlebred Capital of the World.
Held annually, the Dogwood Festival is a celebration of arts and crafts in Kentucky. More than 100 artisans and crafters gather on the front lawn of Shelby County Public Schools administrative offices (1155 W. Main St, Shelbyville, KY 40065) alongside musicians and performers. Proceeds from booth fees and event sponsorships are earmarked for scholarships for local students.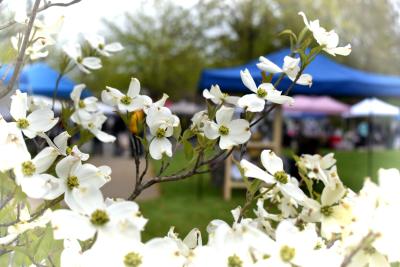 A perfect way to welcome springtime is the Shelbyville Dogwood Classic Saddlebred Horse Show, at the Shelby County Fairgrounds, April 20-22. A new favorite of Shelby County Kentucky events, The Dogwood Classic is just one aspect of the three-day Dogwood Festival, a family-friendly and fun series event with food, arts, crafts, and entertainment. Click here for the full show schedule. For horse show entrants, visit www.horseshowsonline.com for details.
Equestrian enthusiasts, both spectators and participants, will not want to miss the upcoming Kentucky American Saddlebred Pleasure Horse Association (KASPHA) May Classic Horse Show May 11-13, at the Shelby County Fairgrounds. KASPHA's mission is to promote the American Saddlebred as a Pleasure Horse, and Shelby County, home to many of the country's best breeding and training facilities for American Saddlebreds, is the perfect locale.
Plan a Memorable Mother's Day or Spring Getaway
ShelbyKY—Shelbyville, Simpsonville, and the surrounding horse country—is family friendly with plenty of things to do with kids and is a wonderful backdrop to celebrate Mother's Day. (Don't forget — this year, Mother's Day is May 14!)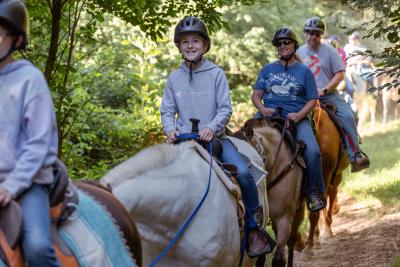 Shelby County is the home to more than 90 horse farms, and a visit to one of the farms is a beautiful way to experience the spectacular bluegrass countryside. Many farms are open for tours and some offer riding lessons and trail rides—but make sure to call first since some require advance reservations. Red Fern Riding Center, part of Shelby Trails Park, offers riding lessons for children and adults as well as horseback trail rides with seasoned guides…what a great way to spend family time!
In historic Shelbyville and Simpsonville, you'll find a varied selection of restaurants for lunch or dinner, whatever your palate. At Claudia Sanders Dinner House, you'll enjoy mouth-watering a family-style menu served with a side of Southern hospitality and can't-miss Kentucky history.
Mom will surely enjoy browsing the antique stores and charming boutiques in downtown Shelbyville, many offering equestrian-themed clothing and merchandise. Or, if shop-till-you-drop is more to her liking, The Outlet Shoppes of the Bluegrass, just off I-64 in Simpsonville, has a great selection of designer brands for the whole family.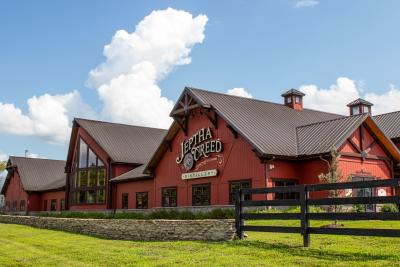 A Kentucky Bourbon Trail® getaway is the perfect treat for Mother's Day or for any time you need to kick back and enjoy life. Shelbyville—ShelbyKY—sits right on the Kentucky Bourbon Trail® and is home to Bulleit Distillery with its award-winning Bulleit Bourbon and Jeptha Creed Distillery, a Kentucky Bourbon Trail Craft Tour® favorite.  ShelbyKY is also home to two wineries, Smith-Berry Winery and Talon Winery, which features live music every weekend, year-round.
There's no need to wait until summer to schedule a Kentucky Bourbon Trail getaway or make other vacation plans in beautiful Kentucky Horse Country.  There are plenty of places to stay in Shelby County, including a great selection of both nationally recognized brands and charming boutiques and Bed and Breakfast inns. Cerulean Farms Bed and Breakfast features four spacious equestrian-themed rooms with breathtaking farm views and a full hot country breakfast.  And you can bring your horse—Cerulean is the only combination guest and horse bed and breakfast in Kentucky!
Shelbyville lies just off I-64, an easy drive between the horse racing cities of Louisville and Lexington. Chicago is a five-hour drive, Nashville TN a three-hour drive, and Atlanta is just over a six-hour drive away.
To jump start your visit to ShelbyKY and Kentucky, peruse our website, which is a great resource and Kentucky visitors guide when you're planning a Kentucky Bourbon Trail® trip or deciding where to stay on the Bourbon Trail, looking for equestrian events in Kentucky or are interested in attractions near Louisville.
ShelbyKY is Your Bourbon Destination!